Media-- The new publisher of the Los Angeles Times sees the convergence of newspapers, TV and the Internet
Monday, November 20, 2000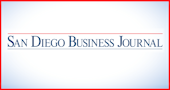 Media: Times Publisher Predicts News Will Travel In Integrated Formats
One reporter's story taking on many forms , a breaking story online at 11 a.m., a print story with a 5 p.m. deadline, and a series of television updates.
It was an image John P. Puerner offered to an audience assembled by SDSU's San Diego Communications Council earlier this month.
Puerner, president and publisher of the Los Angeles Times, was giving a talk he called "The Future of Communications: Newspapers in the Age of the Internet."
Noting most newspapers have yet to make a profit from their Web sites, Puerner's solution is to continue to find ways to market information differently.
His main idea is to offer partial information on a free site, with additional details available on a newspaper-subscriber site.
The idea of a subscriber access site was part of Puerner's comments on integrating information mediums. It was a project he undertook at his previous post, The Orlando Sentinel, which is published by Orlando Sentinel Communications.
Along with its Web site (orlandosentinel.com), Sentinel Communications runs a 24-hour cable news channel, called Central Florida 13.
Sentinel reporters gather information for a particular story and present it in the online, television and print mediums, Puerner said.
Retraining Necessary
The reporters, the majority of whom were from newspapers, were trained to do television reports or interviews, he said. Also, print photographers were also taught to use digital cameras, which they carry alongside their traditional equipment.
Now with the Times, Puerner plans to employ the same approach. The paper's owner, Chicago-based Tribune Co., also owns Los Angeles television station KTLA.
Some of the reporters weren't comfortable with the idea of reporting through the different mediums, but many viewed it as a way of broadening their career opportunities, he said.
Voluntary Basis
So far, the Times and KTLA are working together on a voluntary basis. However, there are plans for joint television production within the year.
The approach could spill down to San Diego, Puerner said, where the Tribune Co. owns KSWB-TV.
The work would be done in collaboration with Los Angeles Times reporters, he said. Puerner doesn't currently plan to reopen a San Diego bureau or edition for the Times, he said.
Any collaboration with KSWB would be done on an ad hoc basis, Puerner said.
KSWB General Manager Lis & #233; Markham echoed his sentiment. The partnership is in the earliest stages, she said.