Lead-- Water, water everywhere. But is it all it's said to be?
Monday, November 20, 2000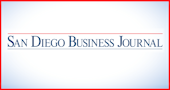 San Diego-based firms are tapping into one of the country's fastest-growing markets in the nation , water. But their pursuit of profits may be a bumpy ride. According to the Beverage Marketing Corp., a research and consulting firm based in New York, Americans consumed 4.6 billion gallons of water in 1999, up 12.1 percent from 4.1 billion gallons the year earlier. By 2007, the country's fifth most popular beverage will be outselling all non-soft-drink beverages, including beer, milk and fruit juices, said Gary Hemphill, vice president of Beverage Marketing.
But competition is fierce. The industry is dominated by a handful of companies, and competition intensified when soft drink giants Pepsi and Coca-Cola spilled into the water market with their own brand names, Hemphill said. Three local water sellers are taking different avenues to get a slice of the annual $5.2 billion U.S. wholesale bottled water market. Carlsbad-based Glacier Water Services Inc., a national water vending firm, has been selling filtered tap water out of its distinct blue machines from inside and outside of supermarkets since 1982.
Healthy California in Solana Beach entered into the relatively new market of flavored waters with its four brands , Revive, Femme, Multi and Relax , in February of this year. San Diego-based Bio-Hydration Research Lab, Inc. this summer brought two brands of "oxygenated" bottled water, Penta-Hydrate Pro and Penta-Hydrate SuperPro, into local health food stores and doctors offices.
- 'Molecularly Modified' Drinking Water
Bill Holloway, president and founder of Bio-Hydration, is among the new breed of water dealers to appeal with buzzwords like "pure" and "natural" water. The electrical engineer started the business in April 1999 after developing the elixir as an experiment. The idea was to create "molecularly modified water" that hydrates the body faster, thus giving people a boost of energy, Holloway said. He claims his elixir can also mitigate certain health problems, such as asthma, fibromyalgia and allergies. But none of these claims have been backed by clinical studies and the Food and Drug Administration, which regulates bottled water as a food, hasn't approved them for labeling. Still, Holloway remains undeterred. "(The doctor's office) is where we see the big market," he said. However, Dr. John H. Renner, president of the National Council for Reliable Health Information , a nonprofit group that helps consumers and professionals get accurate health care information , questions claims about "healthy" water. "This is a good time for the public to turn on their reality check and put this in the same category as a car that gives 600 miles to a gallon," Renner said. "If someone starts telling you they have microclusters, this is scientific gobbledygook."
- Vending Machines Inside Supermarkets
Glacier Water Services also has had its share of troubles. In 1998, Los Angeles County released a study claiming water dispensed from vending machines contained 163 times more bacteria than tap water. But Jerry Gordon, president and COO of Glacier, said a follow-up report by the chief of the state department of health services confirmed the study was flawed.
The damage-control done by the 18-year-old leader in this niche market seems to have paid off. Within the last two years, Glacier placed an additional 4,700 machines, a total of 13,700 machines, in supermarkets in 36 states , up from 27 states.
Now the firm is using a new sales tactic by placing Glacier's machines inside the supermarkets in the water aisles. The idea is for consumers to buy a reusable 39-cent one-gallon bottle or a $10 five-gallon bottle, fill it up, then pay at the register instead of the machine. It's all about convenience and availability, said Gordon. This way consumers don't need to worry about carrying change in their pockets or waiting in the cold to fill up their bottles. He still banks on immigrants and other people who are distrustful of tap water to buy the bulk of the water.
Nevertheless, an idea to bring Glacier machines to grocery stores in Mexico, where many people still boil their water to rid it of bacteria, took a nosedive. In a company statement, the firm reported that for the six-month period ending July 2, Glacier DeMexico had $246,000 in sales, but experienced a net loss of $558,000. Soon after, the firm announced to investors it will close all Mexican operations. It remains to be seen if an expansion to the Midwest and East Coast will succeed, considering people living in those areas aren't used to buying their water from vending machines. Glacier hasn't been profitable for two years in a row. For fiscal 1999, Glacier had a net loss of $4.62 million, or $1.62 per common share compared to a net loss of $3.27 million, or $1.05 per common share in 1998.
- High Hopes For Startup
Stanley Zack, chairman and CEO of Healthy California, doesn't need to please shareholders, but his four employees count on his success. The executive anticipated between $5 million and $10 million in revenues this year , but he has a long way to go. The 63-year-old Rancho Santa Fe resident and racehorse owner came out of retirement to start Healthy California in February. A veteran of the water industry, Zack worked for the Canadian-based water company, Clearly Canadian, for nearly a decade. His new business is based on a simple premise, he said. "Bottled water is big business. So are vitamins and herbs. So I said 'Why not add them?'" Healthy California's four low-calorie (23 calories per 8-ounce bottle) flavored waters appeal particularly to women, Zack said. Since the products launched in July, Healthy California sold more than 25,000 cases of its orange-, grapefruit-, cranberry- and blackberry-flavored water, totaling about $300,000 in sales, he said. Zack plans to introduce two more flavors within one year, and to take his bottled water to grocery stores and upscale supermarkets in Washington and Oregon. When asked about his chances for success, Zack pointed to other successful start-ups. "The most successful new beverages in the last 10 years were created by small entrepreneurial companies," he said, pointing to Snapple as an example. Beverage Marketing consultant Hemphill agreed. "If you can develop a product that consumers prefer, have good distribution and exceptional marketing , that combination is a success." Still, hurdles remain. A 1999 lawsuit filed by the New York-based environmental advocacy group the Environmental Law Foundation against eight bottled water companies claims that 103 brands of water tested violated California standards for chemicals known to cause cancer or birth defects and impurity guidelines. The lawsuit is still pending. The Natural Resources Defense Council, which conducted the study, calls for stricter governmental regulation of bottled water , including disclosure of the water source.