Investment-- Uncertainty over the presidential elections staggers tech stocks and others
Monday, November 20, 2000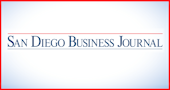 Investment: Nasdaq Falls As Nation Awaits Outcome
Did the outcome of this year's presidential election catch you by surprise? You're not alone.
As of press time, America is still waiting to find out whether the presidency will go to George W. Bush or Al Gore. And that uncertainty is spilling over into the stock market, as people remain cautious over how to handle their money during a constitutional crisis.
Compass Advisers, an investment advisory service based in Rancho Bernardo, was caught off guard by the election results. Prior to Nov. 7, the firm was preparing to mail out one of two fliers advertising a seminar in December.
One flier would have been for a workshop on tax planning under Bush, while the other flier would have touted investment strategies under a Gore administration.
Laurence McCulla, vice president of Compass Advisers, said he thought he had all the bases covered, but had to advise the printers and mailing service to wait. The seminar's title is now "What effect will the presidential election have on your long-term planning?"
McCulla noted that both Bush and Gore had planned tax relief targeted at selected groups of taxpayers. He hopes the issue is settled by the date of the workshop, so he can better advise people on investment strategy.
Right now, people are "sitting on the fence," McCulla said.
"There are people that have funds that are waiting in the wings, and they're kind of indecisive as to where to go, what to do with their funds," he said.
Certain stocks would probably do better under a Bush administration, such as defense contractors and timber companies. Drug stocks, meanwhile, would fall if the price for prescription medications come under price controls proposed by Gore, McCulla said.
Right now, pharmaceutical stocks are doing fairly well, primarily due to confidence that Bush will ultimately prevail. However, some people are holding back just in case, he said.
Locally, San Diego would probably benefit more from a Republican administration. The military is a large presence here, and Bush would pump more money into the local economy through increased military spending, McCulla said.
Jack McCord, president of La Jolla-based Vari Investors Service Inc., sees the market's downturn as being caused more by overpriced stocks in the tech sector than any electoral uncertainty.
"Maybe the uncertainty has accelerated it a little bit. But the fact of the matter is, we were grossly overvalued in most areas of the Nasdaq anyway," he said.
Right now, drug stocks, health care, oil and real estate are doing well. Everywhere else, markets are down, with the "occasional oddball" that's performing well, McCord said.
McCord expects the market to recover, unless the electoral uncertainty is prolonged. In that case, it might not go down, but it certainly won't go up, he said.
Still, McCord advises stockholders to "hang tight."
"I don't see any signs that the long-term secular bull market is over," he said. "The long-term up trend is still intact, and we're just getting a typical correction from time to time when things get ahead of themselves."
Dennis Muckerman, partner in the Downtown-based investment management firm Alexander & Muckerman, pointed out that the uncertainty has come at a time when the market was already weak to begin with.
"It came at a time when the economy was slowing substantially. It came at a time when the psychology for some of the super-overpriced stocks last year was coming apart," he said. "This whole new political instability on top of that (has caused) a negative response from the stock market."
The political uncertainty means it's impossible to predict what policies will be followed, much less which administration will be proposing them, Muckerman said.
"It's hard for anyone to screw up their confidence and say, 'I have a clear picture of the future, and I'm going to invest accordingly.' So there's just been a lot of people standing back, trying to figure out what's going on," he said.
The result of this uncertainty is that the Nasdaq has continued to fall, as people rush to get out of overvalued tech stocks. The Dow Jones Industrial Average, meanwhile, has been fairly steady, Muckerman said.
"The smaller a company is, or the higher price a company is, the more risky its share price is. And those are the ones that are getting hurt the most right now," he said. "Money has gone into the utility averages, the big, conservative companies, and so far they're holding up reasonably well."
Muckerman noted that as stocks fall or hold steady, it's possible this could create a short-term buying opportunity, sparking another rally. But whether that rally endures depends on the outlook becoming more clear, he said.
Muckerman also expects the market to recover soon. Whoever becomes the new president will find himself in a very weak position, because he will not have the backing of half the electorate or Congress, he said.
"Surprisingly, the market likes the idea of a weak president, because it doesn't want radical changes. So I suspect that once this uncertainty starts to clarify, the market will have a substantial rally," Muckerman said.