Headset Sturdy Enough for Drive-Thru's
Monday, November 20, 2000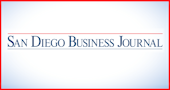 Carhops once used roller skates to reach customers hungry for a burger. The grandchildren of carhops now wear wireless headsets to talk to customers in the drive-through line.
Today, just as skate keys get lost, restaurant owners have realized the headset wired to the belt pack takes a beating.
HM Electronics, Inc., a Sorrento Mesa company that builds such intercom systems, hopes it has a solution with a tougher new product. Its HS9 headset is now being tested at several area quick service (a.k.a. fast food) restaurants, and the company is now touting it to the big chains.
The company bills its device as lightweight and rugged, with a cable of steel and tinsel wire linking the headset to the wireless transmitter on the belt. Its engineers also toughened the often-vulnerable cable end connections. By the company's estimation, the cable can withstand more than 100 pounds of pull and more than 2 million twists.
HM Electronics employs about 300 people and manufactures its electronics in Sorrento Mesa. The 29-year-old, privately held company makes devices for the supermarket, convenience store, truck stop and retail industries.
It has plenty of other electronic offerings for fast-food restaurants, from vehicle detectors to displays that count the seconds it takes for orders to be filled. Such timers can be hooked to computers to produce reports. They can even keep execs updated, in real time, on the order-filling situation by modem.
If you have ever noticed how the voice welcoming you to the fast-food line sometimes isn't the same voice that tells you your total, the reason just might be HME.
The company makes programmable electronic greeters, too.