Government-- The Port District sets new guidelines for business travel
Monday, November 20, 2000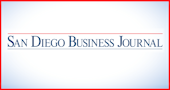 Port District: New Guidelines Seen As Long Overdue
San Diego Unified Port District commissioners agreed first class is not the only way to travel.
The commission unanimously adopted a new travel policy Nov. 14 after travel expenses were the topic of several news reports.
Over the past three years, it was reported that commissioners alone spent nearly $700,000 in travel expenses.
The new 30-page policy, recommended by an independent task force, will replace the three-page policy adopted in 1987.
Attorney Patrick Shea, chairman of the task force, said the new policy was long overdue, but said commissioners did not violate any guidelines in their travels.
He said the old policy was non-specific and easily could have been confusing.
The task force reviewed the travel policies of 40 public agencies and private corporations and found there was no consistent pattern of how the organizations regulated travel.
What separates the Port District from other agencies, Shea said, is the port manages three separate businesses: Lindbergh Field, the Port of San Diego and the real estate along the tidelands. For that reason, commissioners are expected to be knowledgeable in all those areas, Shea said.
Travel to various meetings and conferences are necessary, the task force concluded.
"Comparable agencies either manage a port, airport or real estate," Shea told the commission. "The job here is more complex and the number of jobs you undertake are more. You are called upon to do more jobs and provide more services than comparable agencies."
Although the new policy encourages commissioners and senior staff to fly business class on long domestic and international flights, first class is still an option.
First class is allowed under the new policy if business class is not available.
But Port Commissioner David Malcolm suggested first class be allowed for commissioners and senior staff if the trip is more than 12 hours and they are negotiating major deals.
The new policy does not limit the number of trips taken by commissioners. It does, however, require them to provide detailed reports of their travel, including where they went and with whom they met.
The new policy also requires commissioners to file expense reports in a more timely fashion. The task force recommended reports be complete in 30 days, but after considering some international conversions take longer, the time limit was extended to 60 days.
Commissioner Paul Speer thanked the task force for taking on a project that he said probably had no interest to them.
"We were in the process of writing a change to the policy," Speer said. "But you folks came in and took that process, and probably shortened the process five years."