Finance---Equipment donations to charities provide potential tax relief to businesses
Monday, November 20, 2000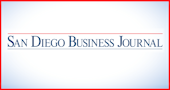 Executives looking for a 2000 tax deduction for their companies might do well to consider donating excess inventory or equipment to charity, officials of two local organizations said.
However, there are limits on the amount that can be deducted, according to a local certified public accountant.
"Our primary interest is in getting construction material and equipment, but we also receive major appliances as well," said Lloyd Morris, director of San Diego Habitat for Humanity's ReStore used construction materials store.
The materials and sales proceeds go to help build homes for needy families, he said.
Habitat for Humanity opened the 24,000-square-foot thrift store in October 1997 in Lemon Grove. Last year, volunteers sold more than $300,000 worth of donated construction materials, Morris said.
About 100 contractors are regular donors to the thrift store, he said, contributing everything from cabinets salvaged from a remodeling project to heavy equipment such as tractors. The charity appreciates deliveries but also has a truck available to pick up items. Volunteers will sometimes clean out warehouses or storage sheds to help the donation process, he added.
Used items are sold by the thrift store at a third of the new cost and donated new items are sold for half-price, he said.
Businesses that donate something they manufacture to benefit children, the handicapped or the needy can deduct the cost of the manufactured item plus 50 percent of the difference between the cost and the retail price.
That's how Father Joe Carroll, director of St. Vincent de Paul Village in San Diego, received an elevator that was installed in one of the buildings at the Downtown facility. It was donated by Cubic Corp.
"At the end of the year, everybody wants to clean house," Carroll said. "We work extra hours then so we can use the items the next year."
Companies going out of business sometimes donate inventory, he said. St. Vincent de Paul Village received a cigar store's inventory of tobacco products that way and then resold them, he said.
Costco and Sam's Club stores are big donors of damaged floor model furniture as well, Carroll said. Daily auctions at the charity's warehouse in Downtown help keep donations from building up, he added.
Matt Bradvica, senior manager at RSM McGladry Inc., a certified public accountancy firm in San Diego, said one charitable deduction is about to be phased out.
Until Jan. 1, 2001, a Subchapter C corporation can contribute computer technology to a school and receive the depreciated basis of the items, plus 50 percent as a tax write-off, he said.
Charitable deductions can only allow a company to write off up to 10 percent of its taxable income, he said.
Subchapter S corporations can't get a deduction for charitable donations, he said. The amount of a partnership's donation is passed through to individual partners based on their share of ownership, he added.