Ballpark- -Entrepreneur considers taking over city's ballpark rol
Monday, November 20, 2000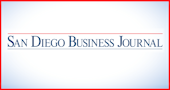 Businessman Looks At Assuming City's
Financial Burden
If the city of San Diego can't finish the Padres ballpark, there's at least one guy out there who's interested in stepping up to the plate and taking a swing at it.
William Lightbody, the owner of a business that makes medicinal chewing gum, said he has been meeting with bankers, attorneys and city officials in an attempt to pull together a team that would assume the city's share of the estimated $450 million ballpark. "We've been looking at what they're doing down there, and we're convinced everybody wants the ballpark," said Lightbody, the president of Premedent Technology. "Our thinking is to go in there and save the situation."
Lightbody said he's already lined up some savvy investment bankers, contacted consultants and met with a representative from the city attorney's office to determine if his idea is feasible.
The Padres, the master developers of the facility and the city's partners, suspended construction of the ballpark in October after the city was unable to issue up to $299 million in bonds for its share of the project.
Mayor Susan Golding and other officials said the city cannot issue bonds until it overcomes a dozen lawsuits filed against the project and a federal investigation involving City Councilwoman Valerie Stallings and Padres owner John Moores is completed.
The probe has been ongoing since June without any signs of a resolution.
Several Interested Parties
Assistant City Attorney Les Girard confirmed he met with Lightbody last week, just as he's met with five or six other groups who have inquired about taking over the stalled project.
"We answered a number of questions, but we don't have a proposal," Girard said.
He said while there were no concrete discussions, the city could possibly assign its rights and obligations to another entity, assuming the council voted in favor of it. Any action also would require the approval of the Padres. He wasn't sure if such a deal would trigger a public vote.
The agreement between the city and Padres, called a memorandum of understanding, negotiated over the summer of 1998, was approved by nearly 60 percent of voters citywide as Proposition C later that year.
Padres spokesman Charles Steinberg said he had heard about the idea and Lightbody may have spoken to a team representative, but there hasn't been any proposal to consider.
"It's not something on our front burner," he said.
Lightbody, a 57-year-old former Canadian who now is a U.S. citizen, said he has no experience building ballparks, but started a chain of walk-in medical centers in Vancouver, British Columbia, in 1986; he sold them in 1989.
He moved to San Diego 11 years ago and launched Premedent Technology about that time. He declined to reveal the company's revenues but said it has 25 employees.
Lightbody said he isn't put off by the amount of money in assuming the city's part of the ballpark (estimated at more than $300 million). The money would come from private investors.
He said he's been an entrepreneur and risk-taker all his life.
Ted Banzhaf, manager of a locally based hedge fund called Aficionado Asset Management Inc., said he's known Lightbody for about four years, primarily as an investor in the fund.
"He's a project-oriented guy who gets things done," Banzhaf said. "As long as I've known him, his word has been gold. I've never needed a contract with him. It's sort of the Texas way of doing business."