Transportation---California moves closer to high-speed trains
Monday, November 13, 2000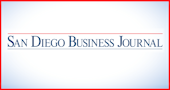 Transportation: Improved Rail Service Should Help Firms in Shipping Products
California businesses will benefit from several projects to improve intercity rail service throughout the state over the next two decades.
So said speakers at the 2000 Intermodal Planning Group Conference, a meeting of transportation planners from throughout the nation. The conference was held Nov. 5-7 in San Diego.
Chief among the projects in California is high-speed rail. The state has already embarked on the beginning stages of a $25 billion project for a system capable of moving goods and people throughout the state at speeds of more than 200 mph.
This would greatly reduce the length of a rail trip from here to Sacramento or San Francisco , down to about 3 & #733; hours, said Dan Leavitt, deputy director of the California High-Speed Rail Authority.
Leavitt argued the merits of high-speed rail, pointing out that highways and airports are stretched to the breaking point in what they can do.
"(Rail) offers increased mobility at a time when roads and airports are becoming increasingly congested. There are many reasons why businesses should be interested in high-speed rail," he said.
The rail authority moved last month to award three contracts, of up to $4 million each, for environmental impact reports on the effects of implementing high-speed rail throughout the state, Leavitt said.
Contractors Named
The contracts are broken down by region. Parsons Transportation Group of San Francisco will analyze how to build a high-speed system between the Bay Area and Sacramento. Frederic R. Harris of Long Beach will look into the area from Sacramento to Bakersfield, and P & D; Consultants/DMJM, of Orange, will analyze the stretch between Bakersfield and Los Angeles, he said.
As for the area between Los Angeles and San Diego, there are two possible alignments , an inland route that diverts through Riverside, then runs alongside Interstate 15, and a coastal route that runs along Interstate 5, said Kris Deutschman, consultant to the rail authority.
The rail authority will meet in December to award a contract to analysts for the inland route, and also to issue a request for proposals for consultants looking to study the coastal route, she said.
Currently, California's statewide effort to build a high-speed train network is the only one of its kind in the United States, and its program EIR is the largest ever conducted for a high-speed train system in the country, Leavitt said.
Building 'Technical Backbone'
"Our goal is to determine an appropriate statewide strategy that addresses each region's needs," he said. "Because these teams have an intimate knowledge of these regions, they will provide us with thorough analyses that will be the technical backbone of our overall program."
Leavitt was quick to distinguish between the EIRs now being assigned with earlier studies. Those studies were only to look into the feasibility of high-speed rail, he said.
This time, the consultants will be working to get the environmental clearance for the project. Once the project has the environmental clearance, everything can move forward, Leavitt said.
"If we went ahead and decided we wanted high-speed rail, but before we got the environmental clearance, then everything would be borne on the backs of the California taxpayers," he said. "But once we have the environmental clearances to go ahead, the state will get some matching money from the federal government. And there will also be some private investment as well."
When built, the high-speed rail will use either steel-wheels-on-rail technology, used by high-speed trains currently operating in France, Germany and Japan, or "maglev," which uses magnets to float above the track, reducing friction and allowing higher speeds, Leavitt said.
Additional Projects
Currently, there are no maglev trains operating in revenue service anywhere in the world. There is a demonstration project in Germany, he said. Los Angeles County is also planning a maglev train.
This is not the only investment in rail projects under way in California. Amtrak is updating its own rail service under a $3.9 billion, five-year draft plan released May 22.
Amtrak's plan would not only improve its own service, but it would benefit the Coaster as well, said Darrell E. Johnson, director of business and strategic planning for Amtrak.
Amtrak plans to conduct track improvements which will expedite and expand intercity passenger rail. It would do the same for commuter and freight traffic on heavily congested tracks in the San Diego, Los Angeles, San Francisco and Sacramento areas, as well as in the San Joaquin Valley, he said.
San Diego can expect to see a number of improvements to its rail line if the plan is fully funded. Chief among the improvements will be double-tracking 20 miles of rail line , 13 miles in San Diego County, and seven miles in Orange County, Johnson said.
Expanded Rail Service
This will greatly help expand the capacity of the rail line. For long sections, the rail is only a single track, meaning there is no way for two trains to pass each other. One train must sit and wait at a siding for the other to pass, he said.
With double-tracked rail, trains can travel back and forth without interference, improving reliability, reducing trip time and allowing additional capacity to add more round trips, Johnson said.
Leavitt, meanwhile, wasn't worried about the possibility of maglev being incompatible with the system in the rest of California, should the high-speed rail authority decide on more conventional technology. At this stage, it's possible that Union Station, in Los Angeles, may be the hub for transfers for high-speed rail users, he said.