Technology---GreyStone Digital Technology takes its virtual reality expertise to the commercial marketplace
Monday, November 13, 2000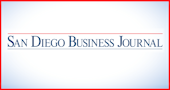 Technology: Firm Expands From Military Simulations To Arcade Entertainment
GreyStone Digital Technology, Inc. has built a business on visual simulations for military training. Now executives at the San Diego company would like a big seller in the entertainment market.
They're hoping a device about the size and shape of a snowmobile represents that breakthrough.
GreyStone produces virtual reality software and systems that let computer users view a simulated environment and navigate through it.
The snowmobile-like platform, called MercRacer 3000, will make its debut Wednesday at the International Association of Amusement Parks and Attractions in Atlanta.
Imagine a person lying belly-down on a snowmobile and you get a picture of a person using the MercRacer. Fingers grab handlebars. Eyes face into a small screen shielded on all sides by blinders.
What the viewer will see is a new game GreyStone is introducing with the machine, called Canyon Fighter.
The platform will move and roll with the simulated rocket flight through an imaginary landscape. The platform has high-frequency speakers at ear level. Woofers are placed under the chest, so low-pitched sounds resonate in the body cavity.
The device has been in the works four or five years, said company CEO Richard A. Smith. By now the company has brought its price down to less than $20,000 , which he said is below what competitors charge for their products.
Targeting Casinos, Resorts
Company officials hope to sell the device to casinos, resorts and other high-end entertainment centers. While declining to name specific customers, company officials said they were similar to Disney's ESPN Sports Club or the Dave & Buster's restaurant and entertainment chain (which is set to open an outlet in Mission Valley).
Getting as little as 10 to 25 percent of an estimated market for 20,000 platforms would create "a healthy business," said Smith.
The company, which has about 45 employees, has not had significant revenue from its entertainment products, said Dave Klugh, GreyStone's director of sales and marketing.
If GreyStone had wanted to sell the MercRacer for $200,000 it could have introduced it much earlier, said Smith. The company opted to wait and tinker.
Reduced Costs
Refinements made during years of development including replacing a pneumatic motion system , running on 220 volts and hooked to a "noisy air compressor" , with an all-electric system that uses the standard 115 volts, said Klugh.
Dropping costs and increased performance from personal computers have also played a significant part in product development, he said.
While in development, company officials also took care to keep the platform compact, Klugh said, since customers care about getting value from each square foot of arcade space. MercRacer has a 5-foot-by-12-foot base.
Software for a second MercRacer game is now in development, and GreyStone may one day open up the platform for other software developers, Smith said. The company is also working to adapt its games to the home market.
GreyStone, in business since 1989, has been producing virtual reality games since 1993. The company went public this year.
The company is also working to apply its virtual reality know-how to E-commerce and other aspects of the Internet.