Redevelopment---Food Bank feeling squeeze of NTC redevelopment
Monday, November 13, 2000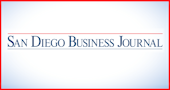 Representatives from nearly 300 social service agencies make the trip to the former Naval Training Center each month to collect nearly 1 million pounds of food from the San Diego Food Bank.
Soon, those agencies will have to travel elsewhere for the service. Where they will have to go is still unknown.
Because of the redevelopment project under way at the former Navy base in Point Loma, the food bank and other organizations are being displaced.
Howard Carey, president and CEO of the San Diego-based Neighborhood House Association, which operates the food bank, said they must vacate the 80,000-square-foot warehouse by April 2001.
He said in order to keep the food bank running, they will need at least a 60,000-square-foot warehouse, with a 10,000-square-foot freezer, a 5,000-pound refrigerator, three loading docks and a conveyor belt.
- In Search Of Affordable Space
But the most important thing they need is an inexpensive lease, Carey said. The food bank currently pays 10 cents per square foot to rent space at NTC.
"The problem is that (10 cents per square foot) is way below market rate," Carey said.
In order to meet market rates, Carey said they would need a subsidy of at least $400,000 a year or a place to operate rent-free.
The long-term solution for the food bank, according to the NHA, is to raise money to purchase a building and eliminate the rent factor. But that is expected to take at least two to three years and would cost about $6 million. "This is larger than the Neighborhood House Association; this is a community need," Carey said. "That's why we're asking the business community to come forward and help us to maintain one of the most critical and essential programs in the county." Megan Conley, director of communications for the National City-based Corky McMillin Cos., charged with redeveloping the former base, said every tenant has been given ample notice of the development plans. Most were given six months to vacate.
- Tenants Move Off Property
"We're trying to give (all tenants) the benefit of all of our connections," Conley said. "But the deal was that the city gave us property management of the base in October. When the city turned that over, (the city) also handed us all of the nonprofit tenants and the issue of vacating them." Conley said every tenant would have the opportunity to stay on site after the base has been redeveloped. But they will have to pay market rates. The food bank is in a building that will be demolished, she said.