Profile---Paul Ecke III takes poinsettia production in promising directions
Monday, November 13, 2000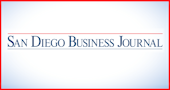 For Paul Ecke III, the gift of giving takes on special meaning around this time of the year.
Virtually every poinsettia decorating a table or festooning a mantle comes from one place: the Paul Ecke Ranch in Encinitas. Four months ago, the chairman, president and CEO and sole owner of the Paul Ecke Ranch, along with his 200-person team, began their annual chore to create deep red, pink, yellow and white poinsettias.
Considering a red poinsettia is as traditional a holiday plant as a Christmas tree in the family room or mistletoe on the ceiling, Ecke says the plants are an ongoing experiment.
This year Ecke, 45, a third generation Californian whose family stands among the coastal North County's most notable pioneers, will offer to growers the firm's newest creation, a purple-hued poinsettia called Plum Pudding.
Consumers will have to wait to see the purple plant until Christmas 2001.
But a preview model in Ecke's plant showroom proves while Plum Pudding is unique, it may not be as striking as the new "Winter Rose" , a three-stemmed poinsettia shaped like a rose that will be available for consumers within weeks.
In the end, it's up to the hundreds of thousands of poinsettia lovers to decide which creations they like best. But the Eckes are used to the whims of holiday shoppers. For three generations, they have pushed ahead to make the poinsettia the top-selling blooming plant.
Crowned A Leader
Ecke won't reveal his sales figures, citing the fierce competition in the horticulture business. But the family has long been known as the world leader in growing poinsettias, according to horticultural experts.
The fact is, more poinsettias are sold in the six weeks before Christmas than any potted plant year-round, according to Greenhouse Grower magazine.
That's a far cry from the family's humble early beginnings.
Paul Ecke III's great-grandfather Albert Ecke started the business in 1906 in Hollywood. A German immigrant, Ecke became fascinated with the blooming poinsettias growing wild in the foothills of Hollywood and began selling them on Sunset Boulevard.
But it was Ecke's late grandfather, Paul Ecke Sr., who sold the idea of poinsettias as the Christmas plant to growers worldwide.
"He noticed poinsettias naturally bloom around Christmas, because they are long-night plants or short-day plants," Ecke explains, adding the family business moved to Encinitas in 1923.
Production Moved Indoors
His father, Paul Ecke Jr., took the business in a new direction by reducing the field production and growing small cuttings of the plant in greenhouses.
These cuttings have since been shipped to growers worldwide to produce the popular Christmas crop.
In March 1991, Paul Ecke III bought the business from his parents and sisters to lead it single-handedly.
By that time, Ecke had made his mark as an innovator, seeking out new ideas to keep the business ahead of the competition.
He recently expanded the business with a new product line , a wide assortment of spring plants for outdoor gardening.
Last year, Ecke also moved the bulk of poinsettia production to Guatemala, where labor costs are considerably cheaper.
The move parallels a growing trend in the horticultural industry to move production abroad but keep research and development here.
To move the R & D; process ahead, Ecke partnered with local agricultural biotechnology firms. Their scientists will join Ecke's team in growing genetically engineered poinsettias and spring plants that require less water, fertilizer and care.
"You don't know how cool it's going to get," Ecke comments on the future of bio-engineered plants. He adds that bio-engineering will be key in moving the horticultural industry to a new level, producing low-maintenance plants faster and cheaper than ever before.
On The Bright Side
So far, Ecke's past and present has already been pretty cool. Born in 1955 in San Diego, Ecke grew up the oldest of four children in what he describes as the best playground any kid could dream of. He played King of the Hill in the family barn.
But perhaps his fondest childhood memory is roaming through the family-owned fields for hours. At his grandparents' house, only about two miles away, he often would stop for cookies before returning home.
Ecke still gets teary-eyed talking about his "best friend," Paul Ecke Sr., who died at the age of 96 in June 1996.
"My grandfather was my buddy," Ecke says. "He let me drive when I was underage, and didn't hold me accountable for my actions."
He also supported his grandson when his grand children joined the local 4-H Club, an organization for youths to raise and showcase livestock.
Becoming Worldly
After graduating from San Dieguito High School in 1974, Ecke was ready to leave the nest. He was accepted to Dennison University, a small college in Ohio.
The plan was to study economics at Dennison, then transfer to Colorado State University and pursue horticulture.
In 1976 he moved to Colorado.
In Colorado, Ecke shared a room with his childhood friend, Bob Echter, now president of the cut-flower business Dramm & Echter in Encinitas. He still considers Ecke a friend and praised his business savvy, which Echter says has its roots in college.
"When his friends came to visit, Paul always worked on projects, like getting wood or fixing things up," Echter says.
It was Ecke's strategy of getting things done and helped sharpened his managerial skills.
But while in Colorado, Ecke also developed his love for skiing.
The ski bug bit him hard.
In 1980, after graduating with a bachelor's degree in horticulture from Colorado State, Ecke took time off for fun. He moved to New Mexico to ski, got his pilot's license, then went to Mexico to network with Mexican flower growers.
In 1982, Ecke pursued a master's degree in business at Duke University in Durham, N.C.
After graduation, Ecke didn't immediately return to his father's business.
Instead, he took a job as a production manager for Hewlett-Packard Co. in Palo Alto, which he still labels as a great "people-company."
Hewlett-Packard's time also translated into marriage for Ecke. His wife, Julie, was the friend of a co-worker who set them up.
In 1987, when Ecke joined the family business as data processing manager, Julie studied business at Stanford. She stayed up north, and in 1989 after Julie graduated, they were married.
Four years later, they had a son. They named him Hans Maxwell Ecke, to the disappointment of some people, he says.
But Ecke sees the break with tradition as a breath of fresh air. He had grown tired of constantly being confused with his father.
One tradition he learned from his grandfather , namely traveling , is still very much alive, he says. This Thanksgiving, Ecke, his wife and son will fly to Guatemala to visit Ecke's 27 acres of greenhouses and meet potential clients.
Ecke is a firm believer in the "who you know is as important as what you know" philosophy.
As chairman of the Las Californias chapter of Young Presidents' Organization, Ecke has dined with movers and shakers.
To ring in 2000, the Ecke family spent two weeks on a cruise to Antarctica with other families belonging to the Young Presidents' Organization.
It's all part of staying ahead in an increasingly competitive environment, he says.
Yet, he's never sought out high society. A child of the Sixties, Ecke still loves to listen to the Rolling Stones and Grateful Dead and hold a barbecue in his back yard. He leaves golfing to others.
"We try not to have a Rancho Santa Fe lifestyle," he says. "Our goal is not to be big shots; we want to stay low-key."
An Icon Among Rivals
Nevertheless, Ecke is already an icon in horticultural circles. Both rivals and friends describe Ecke as an independent, progressive, bright thinker and a quick study.
Eric Larson, executive director of the San Diego County Farm Bureau, applauds Ecke for "taking the traditional family business forward."
Echter also praised Ecke for his achievements, adding: "He can be serious in appearance, but when you get to know him, he's fun.