Media---Promotion ties Mail Boxes, Etc. to eBay auctions
Monday, November 13, 2000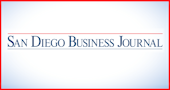 Digital Color Service Company Buys Out
Local Competitor
With revenues from online auctions more than doubling this year, contacts and research done by Mail Boxes Etc.'s public relations firm made for a sun-soaked promotion. The focus: MBE's new marketing tie with eBay.
The San Jose online trading company recently named MBE its "preferred shipping solution."
Locally based MBE is giving Caribbean cruises to 12 eBay members who use MBE to ship their wares, according to a representative from New York City-based Hill and Knowlton's Los Angeles office.
Mail Boxes Etc.'s research indicates revenues from the online auction industry have increased from $3.1 billion last year to an estimated $6.5 billion this year.
Research from eBay had shown the consumers love to travel, and a contact with Princess Cruises paved the way for the contest prizes, the representative said.
- - -
Combining Colors: Local digital color service company Color Works has bought local competitor Accent Presentations for an undisclosed sum.
Color Works, which bought Accent from Minneapolis-based Computer Chrome, Inc., brought on Accent president Ben Evers as president of the company, according to a company statement.
Sorrento Valley-based Accent was founded in 1989 and acquired by Computer Chrome in 1991. Color Works was founded in 1992.
Accent's equipment and employees will be moved to Color Works' Mira Mesa offices.
Corporate Moves: Two local marketing agencies found new homes as of late.
DiZinno-Thompson Integrated Marketing Solutions opened offices in the Little Italy area of Downtown last week, and Encinitas firm Lyon & Associates received final approval from the city of Solana Beach to build a new headquarters and studio.
- - -
Sound Bites: The local chapter of the Society of Professional Journalists won "outstanding large pro chapter" at SPJ's national convention last month in Columbus, Ohio. Former Channel 8 anchor John Culea joined KPRZ-AM and KCBQ-AM for the station's election coverage. He'll continue to do fill-in work on the stations' talk shows, said Mark Larson, who manages the stations. Paul Harvey, a Radio Hall of Fame commentator whose programs air locally on KOGO-AM, recently signed a new 10-year contract with ABC Radio Networks. Harvey's programs are "Paul Harvey News & Comment" and "The Rest of the Story." The Townsend Agency recently hired Terri Berkshire as director of client services. Berkshire's role will be to find new clients and sustain relationships with the Sorrento Valley-based agency's current clients. Berkshire previously worked with Apple Computer Inc., where she helped launch the company's "Think Different" campaign. Local technical documentation developer Manual Labour recently began producing "Tech Soup," a radio show airing in Arizona and Rhode Island.
The deadline for the next Media & Marketing column is Nov. 16. Rodrigues can be reached at (858) 277-6359, Ext. 107, or via E-mail at trodrigues@sdbj.com.