Market---San Diego County experiences its tightest commercial real estate market in history
Monday, November 13, 2000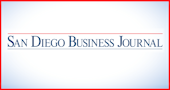 An unusual third-quarter combination of record-breaking commercial developments and tenant demand has created the tightest commercial real estate market in San Diego County history, according to a report by Burnham Real Estate Services.
The majority of the demand and equally successful construction was in the office space market where landowners in highly sought-after areas charged higher, new market rents. As a result, developers increased the construction of office spaces and decreased the construction rate of new facilities for San Diego's traditional economic backbone , industrial and research and development (R & D;) centers. However, vacancy rates for both markets are below or near 10 percent. Led by countywide vacancy rates of 6.9 percent, new office space construction for more than 4.6 million square feet was under way as of Sept. 30, stated the report released the first week of November. The good news for San Diego was the local office market had, finally, achieved "a strong and healthy equilibrium" because of the 95 percent occupancy, said Carol Hillestad, author of the report and director of research for Burnham.
- Current Demand Is Unparalleled
She noted in the report that although the tenacity for new office construction may seem reminiscent of the over-construction that dominated the 1980s, the current demand is unparalleled. "Despite the fact that San Diego County office inventory has increased by 25 percent in the last three years alone, the vacancy rate is at its lowest level in history," Hillestad said. The increased demand for office space and the resulting high land prices combined to drive down new construction of industrial and R & D; facilities within the county.
To offset this trend, local and Silicon Valley-based firms, such as Intel Corp. and Sun Microsystems, moved into single- or double-tenant, two-story, flex office spaces. "A lot of it's office, but also they do have some R & D;," Hillestad said of the flex space. The construction of and relocation to those types of facilities currently dominate real estate investments by the high-tech industry, said Kevin Carrol, executive director the San Diego Council of the AeA, the local high-tech industry association.
- R & D; Space In Transition
"I think what's really undergoing a fundamental change is what is an R & D; space," he said. "It has really changed over the past couple of years." Burnham's Hillestad believes construction of future industrial and R & D; facilities will take place in areas with undeveloped and relatively cheaper land. Communities such as Poway and Otay Mesa top her list. Joe Panetta, president of Biocom, said most biotechs, with great capital reserves built on recent private investments and public offerings, are building their own facilities. The current trend has new construction occurring in Torrey Pines and Sorrento Mesa. id. "They're building a facility just above Sorrento Vista Road and they did quite well on their IPO earlier this year." Most office activity centered in markets with vacancy rates in the 5 percent range, such as the central suburban areas of Kearny Mesa and Mission Valley, and in the north city markets of Del Mar Heights, Governor Park, Sorrento Mesa, Torrey Pines, and University Towne Centre, Hillestad said.