How To---A smart approach to commercial development
Monday, November 13, 2000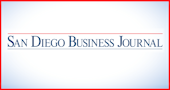 Commercial developers and builders will play a key role in meeting the demands of our growing region in the next 20 years. The San Diego region is expected to grow by nearly 1 million people and 350,000 new jobs by 2020. To ensure that commercial development remains competitive in the future, we must begin planning for that growth today. To that end, the San Diego Association of Governments (SANDAG) is coordinating regional efforts to implement its Region2020 growth management strategy. The foundation of the strategy is smart growth, an effort to curb urban sprawl and concentrate new jobs and housing in existing communities and near transportation. Private sector involvement and support are critical to the success of these efforts. Should commercial development jump on the smart-growth bandwagon? Absolutely.
- Planning For Smart Growth
Smart growth is essential for existing and future commercial development in the San Diego region. Tenants, business owners, employees and most importantly, customers want convenient access to transportation, jobs, shopping and businesses. Smart growth planning is not just for residential development. Infill, compact, quality design, and mixed-use strategies apply to commercial construction, as well.
While smart growth emphasizes how we use our land, the results of smart growth planning can positively affect all five areas of the Region2020 strategy: environment, transportation, housing, the economy and allocation of tax dollars. Sorrento Mesa, Murphy Canyon, Otay Mesa, Poway, Rancho Bernardo, Carlsbad, El Cajon, and other areas boast numerous commercial developments, employment centers and corporate buildings. What a great testament to the booming economy.
However, along with the economic benefits come infrastructure challenges, such as traffic congestion on freeways and local streets. And, if residents try to use public transit to travel to some of our region's major employment, commercial, or retail centers, their efforts are thwarted by how long it takes to get there. How can we build smarter commercial development? We have some excellent examples in the region of combined commercial, retail and residential development that are connected to transit and provide opportunities for residents to walk or bike to work, shopping, parks or other services. In Hillcrest, the Uptown District is a showpiece for mixed-use development. Condominiums, apartments, retail, and offices are clustered together on the former site of the Sears retail store along University Avenue.
- Former GD Site Will Be Mixed Use
In Kearny Mesa, the former General Dynamics site will feature 3 million square feet of office and industrial space, a hotel, retail shops, and apartments. Already, National University has opened its Kearny Mesa Learning Center and library on the site. And, the setting is ideal for residents and employees to connect to transit.
Mission Valley is a hotbed of activity with commercial, hotel, retail, residential and shopping situated between Interstate 8 and Friars Road. However, the busy shopping centers also show us that more can be done to encourage trolley and transit use in these heavily traveled areas.
Otay Mesa offers an ideal opportunity to link commercial and industrial development and employment to housing. Elected officials and community leaders have been doing smart growth in the South Bay to connect existing and planned housing developments to employment centers along the border.
In Oceanside, the downtown area is undergoing major redevelopment activity and has the opportunity to be another regional smart growth landmark.
Elected officials, business owners and developers are critical to the success of the revitalization of downtown Oceanside. They are working together to create a thriving business and retail community that takes advantage of connections to the transit center, convenient freeway access, and proximity to existing and new homes.
In the city of El Cajon, civic leaders and elected officials know the key to revitalizing downtown is new, renovated and attractive development. Acres of land are available for retail, commercial, and residential construction.
City leaders and developers are working together to create a vibrant downtown where people can walk from home to shops or work. Transportation funding is improving commute options for El Cajon residents with better connections to transit, the trolley and East County freeways.
- Building Boom Leaves Its Mark
During the building boom of the 1980s, commercial development exploded through out the region. A number of national and international businesses now are headquartered or have a major presence here, and many home-grown companies employ thousands of local workers. North, south, east and west there are major employment centers that attract workers from throughout the region. The growth in Sorrento Mesa illustrates how good economic times can lead to bad transportation choices. Rush-hour traffic slows to a crawl along Interstate 5 and on major streets leading to retail and commercial centers. While the Coaster is close to residential communities along the I-5 corridor, it can be inconvenient to get from the transit station to work in the Sorrento Mesa area. Elected officials and the region's transit agencies are working together to make those vital connections from existing transportation hubs to major employment centers.
Linking transportation to commercial and residential development is a critical element of current and future transportation planning. It's so important that funding incentives are being pursued as one way to encourage better integration of transportation, land use and development decisions.
- Joining Forces For Growth Management
SANDAG is working with the region's local governments, residents, business leaders, developers, community groups, and others to implement the Region2020 growth management strategy through changes to land use plans and policies.
The county is updating its general plan and the city of San Diego is pursuing a "City of Villages" concept that would promote "adding homes to existing as well as planned commercial and employment centers." The cities of Chula Vista and Santee also are updating their general plans. The Metropolitan Transit Development Board just adopted a long-term strategy, called "TransitWorks," that will expand the system to make mass transit a better alternative to driving in a car. The North County Transit Development board also is finalizing its "Fast Forward" strategic plan to improve bus service for its riders. Local agencies and governments are mobilizing to focus our development in the urban areas and reduce urban sprawl. Leadership from the business and development community is critical to this effort. Developers can design their projects so businesses and houses are close to transit and accessible to pedestrians and bicyclists. They can build more mixed-use projects in urban areas. And, business leaders and developers can support local policymakers when they vote for more compact development and finalize general plans. The Region2020 growth management strategy calls on residents, community and business leaders, elected officials, and others to make important changes to how we use our land and resources. It is an ambitious program that requires vision and commitment. Please join us. McLaughlin is director of planning and land use for the San Diego Association of Governments.