High-Tech---ViaSat to supply terminals for Astrolink system
Monday, November 13, 2000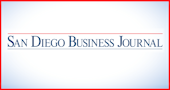 Widcomm Partners With Philips Semiconductors
Business data beamed over a planned satellite system will travel with the help of terminals supplied by Carlsbad-based ViaSat Inc.
Astrolink International LLC , a strategic venture of Liberty Media, Lockheed Martin Global Telecommunications, Telespazio and TRW , plans to start offering broadband services in 2003.
The Astrolink deal is one of the most significant contracts ViaSat has received, said Steve Cable, vice president of ViaSat Broadband Systems. Assuming the successful launch and growth of the Astrolink system, ViaSat expects to sell more than $100 million in terminals under the agreement, Cable said in a prepared statement.
ViaSat has also committed to a multimillion-dollar purchase of Astrolink satellite services, and will resell those services to customers.
ViaSat will provide both pre-production and production terminals for the Ka-band Astrolink system. Data on the system will travel at up to 20 megabytes per second on the uplink. Downlink reception speeds will be up to 100 megabytes per second, according to a statement released by the companies.
- - -
Bluetooth Binds 'Em: Philips Semiconductors has picked San Diego's Widcomm Inc. as a partner to develop Bluetooth wireless technology products.
Bluetooth is a low-power radio technology that can connect electronic devices within a room, and eliminate the need for cables. Widcomm specializes in Bluetooth software and networking.
Philips is the world's third largest producer of communication-integrated circuits and is the first company manufacturing Bluetooth products in high volumes. It is a division of Royal Philips Electronics and is headquartered in Eindhoven, Netherlands.
Romanian Buy: Path 1 Network Technologies Inc. of San Diego is acquiring the assets of Metar ADC, an integrated circuit design company specializing in high-speed network communications devices, based in Bucharest, Romania.
Included in the purchase is the Metar line of switch, interface and ethernet media access controller designs. Path 1 will also get the engineering team overseeing the company's application specific integrated circuits. The transaction is valued at $2 million plus performance incentives.
Path 1 is talking up its TrueCircuit technology, which according to its publicists would increase the quality of video over the Internet. It hopes to introduce a marketable, TrueCircuit-enabled media access controller chip by mid-2001.
- - -
Good As Gold: The Navy and Lockheed Martin Corp. have presented Ferro Electronic Materials of Vista with their Aegis Excellence Award, an honor recognizing contributions to the shipboard weapons system of the same name. Ferro makes gold-based, multi-layer, thick film materials for the electronic control circuitry in the radar systems at the heart of the Aegis weapons system.
Sales And Alliances: San Diego's Inabled Online Corp., which puts Internet portals in offices and in the lobbies of commercial buildings, has tapped go2 Systems Inc. of Irvine to provide content for the services. Go2 offers directory services and local information.
SVI Retail, a subsidiary of San Diego-based SVI Holdings, Inc., has finished installing point-of-sale software at 127 Natural Wonders stores. As the name suggests, the retailer sells products with a nature theme. Timberland Savings Bank has purchased the CheckQuest imaging system from San Diego's Mitek Systems, Inc. The 11-branch bank in Washington state processes 12,000 checks per day.
- - -
Song Saver: Get rid of those one-hit-wonder CDs, exhorts San Diego's Digital Candle Corp. The company has launched its MP3 Strip_It! Digital Software, which promises to simplify the process of transferring audio tracks from compact discs to computer drives.
A potential use, the company suggests, is taking a music CD with mostly marginal songs, saving the good tracks with its product, and chucking the disc.
The product lets users save music as a WAV file or as an MP3 file. Digital Candle takes independently developed software and distributes it online , and not all its products relate to audio. This product was created by Matt Colguin.
Items for this column may be sent via E-mail to bgraves@sdbj.com.