Family Outfit Sells Outdoor Gear Online
Monday, November 13, 2000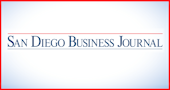 Chances are when you think of an Internet start-up selling outdoor adventure gear you probably picture a 20-something dude with a skateboard glued to his sneakers.
Now, think out of the box: Poway, old-fashioned family-run business, and you get Coastline Adventures at (www.coastlineadventures.com).
Casey Markee, director of business development, and his wife, Tifany, product development manager, and her parents, Scott and Nora Milner, didn't know much about E-commerce when they bought Coastline Adventures in February 2000.
The family bought the then-lagging adventure business from two Marines for less than $100,000, Markee said.
But they learned quickly.
"We (essentially) built the business from the ground up," Markee said.
Since the Web site debuted under new management in May 2000, the business has grown substantially, he said.
This June, the family got a full return on their initial investment.
Since then, Coastline also wooed more outdoor equipment retailers, including Suunto in Carlsbad; Brunton in Riverton, Wyo.; Solstace in Portland, Ore.; and Overland in Chino. They sell everything from specialty watches and backpacks to sandals and binoculars.
Under the business plan, Coastline Adventures buys products from these retailers, then offers them under new pricing to Internet clients.
Recently, Coastline Adventures said it struck a partnership with La Jolla-based travel agent Outdoor Travel Adventures offering a variety of adventure trips.
Among them is a six-day multisport adventure trip in Colorado. Daily activities range from hiking in the Rocky Mountains to rafting and biking along the Arkansas River.
This trip costs $1,495 per person.
In October, the firm also added a new gift section, just in time for the holidays. As of last week the gift section offered primarily a watch and an outdoors tool for "him;" binoculars and a tracking watch for "her."
For more information, go to (www.coastlineadventures.com), or call (800) 413-2050.