Editor's Notebook---Can soccer finally capture San Diego's spirit?
Monday, November 13, 2000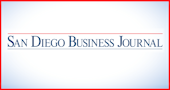 Check out most any park in the county on a Saturday afternoon and you're likely to see a bunch of kids kicking a soccer ball around. And when the kids leave, adults get their kicks in, too.
America may love its football, but a random check of our city parks reveals we also love our soccer. Not so much on TV, or in stadiums, but certainly along the sidelines of our kids' matches.
So with this grass-roots groundswell of support, it seems like the right time to reintroduce the sport on a major-league level to San Diego, right?
I answer with a resounding I hope so. Early this month the Women's United Soccer Association formally unveiled its San Diego franchise. The San Diego Spirit joins a suddenly crowded field of professional soccer teams in town that also includes the recently revived San Diego Sockers, which begins its inaugural indoor season next summer, and the A League's San Diego Flash.
The eight-team WUSA and the Spirit in particular have scored on several fronts. The league enters the local sports scene armed with a national television contract, while the Spirit has a commitment from Cox Communications' Channel 4 to broadcast all its games.
Cox also will infuse some $2.5 million to upgrade USD's Torero Stadium, boosting the capacity to about 6,500, widening the field and making it a cozy little soccer-friendly arena. Compare that to the Washington, D.C., Freedom, led by star striker Mia Hamm, which will play in the cavernous 50,000-seat RFK Stadium. Call USD's field a shoebox, but I'd take a near-sellout every night vs. 5,000 fans scattered around a dilapidated former pro football stadium.
The team is backed by Cox Enterprises, which also owns the Atlanta franchise. Armed with an annual budget of between $2.5 million and $3 million, General Manager Kevin Crow has been provided the resources to not only market his product but to field a very competitive team.
The league already has a salary structure in place. The Spirit's allotment of national team stars Shannon MacMillan, Joy Fawcett and Julie Foudy will make $85,000 apiece, while Swedish international stars Kristin Bengttson and Ulrika Karlsson will make about $50,000 apiece. Players drafted later this year will receive a salary determined by the round in which they are acquired.
The mechanisms are in place, the financial backing is there, but bottom line: Will the fans support yet another professional sports league?
Soccer has been called the sport of the next generation ever since my brother-in-law was playing club soccer as a kid; he's 31 years old now. That was about the same time the Sockers debuted in the old North American Soccer League that played in what was then known as Jack Murphy Stadium.
The NASL folded a few years later, though the Sockers went on to tremendous success as an indoor team at the Sports Arena. Major League Soccer, which revived the men's game in the U.S. in 1996, has watched its talent level soar and attendance slip to the point where the league's viability is in jeopardy.
The Los Angeles Galaxy even went so far as to sign Mexico's top player, Luis Hernandez, expecting the Hispanic community to flock to all its games. The Galaxy wound up drawing about 15,000 per game in the 90,000-seat Rose Bowl.
Which brings up a good point: Who's going to watch women's pro soccer? At the press conference announcing the team's name and its administrative staff, Cox's Vice President and General Manager Bill Geppert noted that while they are committed to a family-friendly event, preliminary research revealed the fan base wouldn't so much be moms and daughters, but dad and his daughter.
It makes sense; dads are generally active participants in girls soccer; and Dad generally brings Junior to baseball games for a unique little bonding experience. So why can't women's pro soccer act as a quality-time catalyst for Dad and his little girls?
It's an intriguing niche, but given our city's relative indifference to spectator sports not bearing the initials MLB or NFL, it's still going to be a tough sell. This city's history is littered with failed sports franchises.
All our pro basketball teams have come and gone and the Sockers are in their third or fourth reincarnation. An MLS franchise was a virtual lock in San Diego until last year's All-Star game debacle. Coupled with the league's financial struggles and a questionable fan base, an MLS franchise here may never happen.
Soccer on a professional level by and large has been met with a collective yawn, both nationally and locally. Those who know it and like it are passionate. Obviously in this country, those people are few and far between.
Perhaps the Spirit will capture a unique niche in our notoriously participatory local sports landscape. Soccer is a wonderful spectator sport, and as witnessed by the 1999 Women's World Cup, the players have created an exciting product on an international level.
Still, going against the Padres won't be easy, especially on fathers. Dads around the county will have to agonize over taking Junior to the ballgame or bond with his daughter next to the soccer pitch.
Bell is the managing editor of the San Diego Business Journal.