CyberBucks---Nasdaq spurns local firm's listing application
Monday, November 13, 2000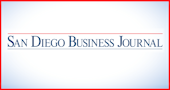 Kintera Inc. Agrees to Buy Give Power, Inc.
It took about nine months, but Nasdaq rejected San Diego's e.Digital Corp.'s request to be listed on the high-tech-laden national exchange last month.
Though the little tech company made a big splash earlier this year when its stock soared to $24, it couldn't maintain that price, or even the minimum of $5, which was cited as the official reason it was denied a listing.
When the company officially applied for Nasdaq listing in February, the stock was trading at about $18. Within a few months, however, it was sliding back to earth, hitting $10 by the end of March. For much of 1998 the stock was trading well below $1, and for most of 1999 was below $3.
Last week, EDIG was trading at about $4. It's 52-week high-low has ranged from $24.50 to $1.50.
Alfred Falk, e.Digital's president, said while being spurned by Nasdaq was a disappointment, it isn't the focus of the business.
The firm will reapply as soon as the share price improves, he said.
Meantime, e.Digital continues to grow its new business model, essentially incorporating its patented MicroOS technology into portable devices that can download data, voice and video from the Internet.
While that may be the firm's future, the bulk of its revenues come from the sale of a medical dictation device for doctors manufactured by Lanier Worldwide Inc.
In a letter to EDIG shareholders, Falk said the firm is in much better shape than when it applied for Nasdaq listing. In addition to previous announced partners such as Lucent Technologies, Intel, Texas Instruments, Sony and Microsoft, Falk said the company is working with "a variety of multibillion companies that will be bringing e.Digital-powered products to market."
Last month, the company raised $4 million to help attract more business and hire more engineers. Today, the company has 29 employees, the majority of whom are engineers, compared to 18 about a year ago, said Senior Vice President Robert Putnam.
The money will also be used to help boost the firm's balance sheets. At the end of June , its first quarter , EDIG reported a net loss of $714,163, compared to the previous year's first quarter when it lost $968,117.
For its fiscal year ended March 31, e.Digital lost $5.1 million on revenues of about $490,000, compared with a net loss of $2.7 million on revenues of $426,000 in the prior year.
Except for a couple of quarters in 1992, e.Digital, formerly called Norris Communications, has never made a profit. As of June 30, it had an accumulated deficit of $44.8 million.
Falk, who was paid about $209,000 last year, remains the largest EDIG shareholder, with about 1.3 percent of total shares outstanding.
- - -
Kintera Attracts $5 Million: Kintera Inc., a San Diego-based start-up that helps nonprofit organizations raise money via the Internet, said it agreed to buy Give Power, Inc., a local two-person firm that developed an online solution for athletic fund-raising activities.
Harry Gruber, Kintera's CEO, declined to disclose the price paid for the firm, but noted its founder, Julie Schwartz, would join Kintera as a senior product marketing manager.
Kintera, which stands for Knowledge Interaction and now has a staff of 42, also announced it raised $5 million in its third round of financing.
Gruber said the company-led round was over-subscribed and attracted $27 million, but could only accept the $5 million it was seeking this time around.
Among the institutional investors in the latest round were Seneca Capital of New York; Hori Capital of Boston; and Rock Maple Ventures of New York.
Gruber said among the angel investors who participated in the latest round are the same individuals who invested in his former company, InterVu Inc. (sold to Akamai Technologies), and Qualcomm Inc.
Through three rounds of financing, Kintera has attracted a total of $13 million, including a $5 million stake from Viacom.
"We're getting a lot of attention because of my name and track record, and because a lot of people like the space that we're in. We're helping charities raise money," Gruber said.
Maxwell Consolidates Operations: Maxwell Technologies Inc., a manufacturer of electronic components and power and computing systems, celebrated the completion of a $5 million renovation at its Kearny Mesa headquarters office earlier this month.
Before the consolidation, the Nasdaq-traded company was in eight locations, including plants in Mira Mesa and Sorrento Mesa. Now it has four sites, all close to its two main plants on Balboa Avenue.
"The company was spread out all over the place in 10 different divisions, and because of that we weren't able to take advantage of things like purchasing synergies or staffing," said Maxwell spokesman Mike Sund. "The move has produced a lot of efficiencies."
The company's new digs may signal a turnaround, but based on its latest quarterly results, it still has a ways to go.
For its third quarter ended Sept. 30, Maxwell lost $4.7 million on sales of $31.7 million, compared with a profit of $700,000 on sales of $42.6 million for the like period in 1999.
Revenues for the firm through Sept. 30 were $106.4 million, compared to $121.1 million for the like period a year ago.
Sund said the firm sold three of its core businesses earlier this year as part of its reorganization.
The process didn't alter the company's staffing that much. Maxwell has 1,100 employees, including about 650 locally. It has four other facilities in California, Nevada and New Mexico, along with three offices in Europe.
Maxwell shares, which have traded between $6.75 and $19 over the past year, were trading last week at about $17.50.
- - -
Titan Corp. Reports Profits: Titan Corp., San Diego's multifaceted high-tech firm, reported third-quarter net profit of $5.5 million on revenues of $275.8 million, compared to a net profit of $8.8 million on revenues of $212.9 million in the previous year's third quarter.
For the company's accumulated three quarters ended Sept. 30, Titan lost $22.5 million on revenues of $752.7 million, compared to a profit of $19.8 million on revenues of $566.9 million for the like period last year.
Titan said the costs associated with two major acquisitions, AverStar of Massachusetts and Advanced Communication Systems of Virginia, cut into its profits this year.
The profitable third quarter inspired Titan CEO Gene Ray to say the company is in its strongest financial position in its 19-year history. Wall Street apparently agreed, sending TTN stock up nearly three points Nov. 2, the day the quarterly results were released. The stock continued to move up last week and traded at $18.06 as of Nov. 7.
Although it gets about 80 percent of its sales from government contracts, Titan is building its commercial business such as its food pasteurization unit called SureBeam.
The acquisitions completed earlier this year more than doubled Titan's staff from 3,100 to 7,600 employees. About 1,500 of those work in San Diego.
Send tech finance news to mallen@ sdbj.com.