Banking---First National acquires bank in Long Beach
Monday, November 13, 2000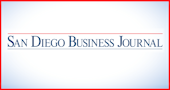 San Diego-based First National Bank has signed an agreement to buy Generations Trust Bank of Long Beach, which specializes in trust fund management.
The privately held local bank did not disclose the sale price of the acquisition.
"Generations Trust Bank was looking for a commercial bank they could tie up with and we seemed to fit their profile," said Leon Reinhart, president and CEO of First National Bank.
He anticipated the acquisition, which was announced Nov. 1, would be completed in late December, subject to regulatory approval and a vote of Generations Trust Bank shareholders.
Generations Trust Bank has about $100 million in assets it manages for wealthy individuals and corporate pension plans. First National Bank has approximately $600 million to $700 million it manages in trust, Reinhart said.
"We wanted to strengthen our trust department, so we bought Generations Trust Bank, which specializes in fund management," Reinhart said. "We're strong managing 401(k) plans and we recognize Generations Trust Bank is good on personal accounts."
Richard Levenson, senior vice president of San Diego-based Western Financial Corp., a community bank stock analyst, said the acquisition would enable First National Bank to expand. He saw the acquisition as a way First National could attract customers and also generate fees for services other than trust account management.
"As traditional banking methods have become less profitable, banks are looking for other ways to generate money," Levenson said. "There is significant fee income to be generated offering trust services."
He also said the opportunity to sell other bank services to Generations Trust Bank customers may have also prompted First National Bank to make the acquisition.
In addition to trust services, First National Bank offers a range of traditional banking products such as construction loans and international trade financing, Reinhart said.
First National Bank has two branches in Downtown and seven others around the county, Reinhart said.
Generations Trust Bank has one office in Long Beach, which will stay open. Jim Gray, chairman of Generations Trust Bank, will continue on the job, Reinhart said. The bank employs 16 people at its one office and they will be kept on the job, Reinhart said.