Backwards Yacht Racers to Stop in San Diego
Monday, November 13, 2000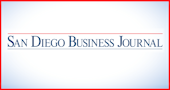 Sometimes people are just drawn to doing things the wrong way.
It's the likely hope of San Francisco-based organizers of a 10-month, 24,500-mile, round-the-world yacht race , in which the route is charted against prevailing winds and currents.
Called the New World Challenge, the race is planned to stop in San Diego in 2003, said Katy Morrison, a local spokeswoman for the event.
An additional hurdle is that each yacht's professional skipper is the only really experienced crew member, Morrison said. The other 17 people on the boat will be amateurs. Some won't have any sailing experience at all.
A sister race involving the United Kingdom was launched from Southhampton in September, Morrison said.
According to Anne-Marie Wood, project director for the Challenge races, the Boston stop of the U.K. race drew more than 15,000 visitors to a marina.
"When the New World Challenge comes to San Diego, we anticipate an even greater turnout," Wood said.
She also expects "international focus" for the event, Wood said.
Plans are still being made for paid media coverage, Morrison said.