Web Site Keeps Track of Office Pool Bets
Monday, November 6, 2000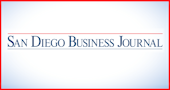 The Internet has touched everything from grocery shopping to dating, so it was only a matter of time before it touched the office sports pool.
This year an Encinitas-based company, Blowfish Sports Inc., has entered that arena with netOfficePool.com, offering to keep track of the weekend's NFL match-ups and other such matters for clients over the Web.
The site offers football pools in different formats (Beat the Spread, Pick 'Em) and pools on a variety of other contests, including soccer, boxing and horse racing's Triple Crown. It also offers a place for participants to post messages to each other. So far, says principal Larry Wilkens, netOfficePool.com has 11,000 registered users and gets 25,000 hits a day.
Wilkens is a San Diego State alumnus who sells athletic products through his own company, Wilkens West Sales. A partner in the venture is Jim Carbaugh, who sells medical products through his own firm, Aries Surgical Associates.
They took netOfficePool live in time for the March Madness NCAA college basketball championship, Wilkens said. National launches in six cities coincided with the start of this year's pro and college football seasons. The company held a "coming out party" in La Jolla last month. Now funded by family and friends, Wilkens said the company is hoping to get the attention of potential investors.
NetOfficePool offers its service directly to consumers, or as a business-to-business service for other Internet sites. Its initial B-to-B customer is a radio station that was looking for Web content, Carbaugh said.
Another Blowfish Sports Web site, (www.doclocks.com), is a handicapping service offering the wisdom of the company's sports veteran, Doc, who as of last week was picking the Chargers over Seattle in their Sunday rematch, 30-19.
A third Blowfish site is (www.triviaace.com), which challenges visitors to beat the clock in playing a sports and entertainment trivia contest. That contest changes daily.
NetOfficePool.com runs with a disclaimer warning the company, its affiliates and its sponsors do not condone or endorse illegal gambling.
And for those who aren't hanging on every gain and loss in the sports world, netOfficePool is thinking ahead. It is considering pools on the Oscars and "Survivor."