Trade Shows---Trade shows off to a good start with coaching
Monday, November 6, 2000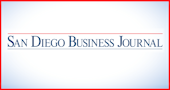 Although Susan Friedman is more than 3,000 miles away in New York, she has San Diego on her mind.
It's not just because she'll attend her industry's annual convention at the San Diego Convention Center in late November.
Rather, it's Friedman's job as the self-promoted "trade-show coach" to think about cities with arenas for trade shows, the show exhibitors and the organizers.
For 15 years, Friedman has been a mainstay of the industry as a consultant, speaker and author.
"More often than not I'll get called in just before the show begins to do some training," said the London native, now based in Lake Placid, N.Y.
As a self-employed troubleshooter, she's noticed a few trends develop. Among them are an increasing number of larger shows and specialized "vertical shows."
One example of a growing industry show is Comdex, she said. The biannual computer show's spring event drew over 100,000 people and featured a speech by President Clinton. The second show, scheduled for November in Las Vegas, has already sold more than 1 million square feet of exhibitor space.
"However, within the computer industry there are small components," Friedman said. "I just found a potential client who might be going to a museum computer network show."
- Setting Goals For Big Shows
The annual conference for the Museum Computer Network, MCN: 2001, will be held Oct. 24 to 27, 2001, in Cincinnati.
As the number of trade shows and the amount of attendees increase, it is important for show exhibitors to establish goals, Friedman said.
"They need to know why they're going to the show," she said.
Too often exhibitors attend trade shows because of prior attendance or external factors, such as attendance by the competition. As a result, exhibit personnel are not always properly educated, she said.
Friedman noted trade conventions have become a very personal experience. The knowledge of the people in the booth today is more important than the glamour of the booth itself.
"The people that companies take to these shows are ambassadors, so they want to choose them correctly," she said. "When they choose them and put together a team, they must also train them so that they know what is expected of them on the show floor. That will avoid a lot of the negative behavior that goes on."
- Following Up On Show Leads
After the show, exhibitors must follow up on leads produced during the show, she said.
"Over 80 percent of leads collected at shows are not followed up," Friedman said. "It's astounding."
The numbers are so high, she added, because the leads aren't qualified. Booth personnel don't always ask the right questions or have meaningful conversations with potential customers during the show, she said.
"What I'm finding is a lot of companies spend a lot of money on the booth itself and forget about the people," she said. "All the booth does is attract. It's the people that sell."