Tourism---San Diego ranks among Top 10 destinations in Conde Nast survey
Monday, November 6, 2000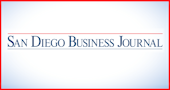 With San Diego's first top-10 appearance in a major travel magazine's readers poll already cause for celebration, work is in motion to further boost the county's reputation.
The efforts focus on culture and dining, the two sections in which San Diego's ratings grew in a readers' survey of magazine Conde Nast Traveler.
In the November issue, the magazine's readers named San Diego among the top 10 U.S. cities, for the first time.
Both culture and dining had been the focus of ConVis-coordinated marketing for some time, said Sal Giametta, vice president of community relations at the San Diego Convention & Visitors Bureau.
In fact, next month, ConVis and several arts organizations are expecting to launch the winter and spring edition of a cultural tourism campaign that debuted last spring, Giametta said.
Victoria Hamilton, executive director of the city's commission for arts and culture, was pleased by San Diego's ranking in Conde Nast Traveler.
- Culture Campaigns Started Years Ago
Hamilton considers it a result of efforts that began a decade before, with campaigns that positioned San Diego and other California cities as cultural destinations.
In the beginning, it was much more of a challenge, she said.
"It was very easy and traditional to promote San Diego's great weather, which we do, and our great beaches, which we have, and of course our wonderful attractions, the Zoo and SeaWorld, and that tended to be the primary focus of the promotion activities," Hamilton said. "It has shifted over the years, and culture is now high on the list," she continued.
Selling San Diego as a dining destination has also become a priority in recent years, Giametta said.
David Cohn, president of the local chapter of the California Restaurant Association, recently spent a couple days in New York City visiting major food and restaurant publications.
He was discussing changes in San Diego's restaurant industry, Cohn said.
- Reputation For Fine Dining Grows
"The restaurant industry has come a long way in the last five to 10 years," he said. "We have some definite world-class restaurants in San Diego, and we've never been known as a world-class dining city."
It's one thing to have good restaurants, and another thing entirely to get the word out about them, Cohn said. The strategy his organization is working on is approaching the industry magazines, such as Food & Wine, Food Arts, Wine Spectator, Savoir, Gourmet and Bon App & #233;tit.
Although he didn't meet with all of the magazines, many of them were interested in what he had to say about San Diego's restaurant industry, Cohn said.
One story that Cohn has worked on promoting was the influx of up-and-coming chefs to San Diego, many of whom were drawn to the quality of life here, he said.
Among the newcomers are: Trey Forshee, at La Jolla restaurant George's at the Cove; Todd Davies, at Bertrand at Mr. A's in Hillcrest; and Jeff Thurston, at one of Cohn's restaurants, the Prado Restaurant at Balboa Park.
San Diego's restaurant industry also got a shot of publicity in September, when four local chefs presented "A Taste of San Diego" to the prestigious New York City restaurant James Beard House.
The chefs were Bernard Guillas of the Marine Room in La Jolla, Tom Dowling of Rancho Bernardo Inn, Riko Bartolome of 150 Grand Caf & #233; in Escondido and Michael Stebner of Azzura Point at Loews Coronado Bay Resort.
They were also featured in a recent segment of the nationally televised series, "The Best of Wine & Food." It aired on the Food Network, CNBC and 132 syndicated markets, according to ConVis.
Another local chef, Amiko Gubbins of Mission Hills restaurant Parallel 33, will be heading to Beard house for a solo demonstration this month.
All of these examples play into top of mind awareness for food writers and readers alike, Cohn said.
"I run into people who say, 'New York's such a great restaurant city.' I say, 'When's the last time you've been in New York?' and it could be three or four years, but that reputation lingers," he said.
The buzz will be important to San Diego's reputation, he said.
"They read about the fact that it's a great restaurant city or that a new restaurant opened, and so they just kind of assume that it's a great restaurant city," Cohn continued. "Certainly it is, but you have to constantly keep your name out there, obviously, and that's what these cities have been very successful at doing."