Tourism---Area hotels, eateries win prestigious Auto Club awards
Monday, November 6, 2000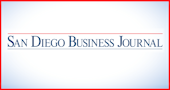 Fifteen hotels and six restaurants in the county have gotten the Automobile Club of California's Four Diamond Award for 2001.
Superior service, amenities and ambiance are all hallmarks in winning the designation, said the Auto Club's Clarence Garlough, approved accommodations manager.
The hotels are: La Casa Del Zorro Resort in Borrego Springs; La Costa Resort and Spa in Carlsbad; In Coronado, the Coronado Island Marriott Resort, Hotel del Coronado and Loews Coronado Bay Resort.
Also, Julian's Orchard Hill Country Inn was awarded the Four Diamond designation, as was Hilton La Jolla Torrey Pines, Hyatt Regency La Jolla and La Valencia Hotel, all in La Jolla.
Other Four-Diamond winners include the Rancho Bernardo Inn, the Rancho Valencia Resort and in San Diego, the Hyatt Regency San Diego, Hilton San Diego, Wyndham Emerald Plaza.
The restaurants that were recognized were: Vivace, part of the Four Seasons Resort Aviara in Carlsbad; George's at the Cove and the La Valencia's Sky Room, both in La Jolla; Rancho Bernardo Inn's El Bizcocho Restaurant; and local restaurateur Bertrand Hug's establishments, Mille Fleurs in Rancho Santa Fe and Bertrand at Mr. A's in Hillcrest.
- - -
Culture Funding: Federal and state agencies that support arts and culture recently awarded the Museum of Contemporary Art, San Diego two major grants that will bring in about $170,000.
The museum has two sites, La Jolla and Downtown.
A two-year grant of $112,500 was received from the Institute of Museum and Library Services, which is an agency that funds general operating support for museums and libraries.
The San Diego Museum of Natural History is also receiving an IMLS grant for the same amount. The museum plans to use the money for staff salaries and benefits that will affect its research, education and exhibits. "Staff remain our single best investment during times of transition, for they safeguard the valuable collection and maintain continuity of the museum's 125-year legacy," said executive director Michael Hager.
MCA's second grant will come from the California Arts Council, which will award $57,822 to the museum for educational and outreach programs. This is the 18th consecutive year that MCA won the CAC grant.
Music Note: The La Jolla Chamber Music Society recently announced its hiring of violinist Cho-Liang Lin as artistic director of SummerFest La Jolla.
According to executive director Neale Perl, the organization is excited to have Lin on board. "He is already a favorite of La Jolla audiences from his numerous appearances here, he understands and shares in the community's vision of SummerFest, and he is the perfect choice to insure the continued growth and success of the festival," Perl commented.
- - -
Checking In: Locally based SeatAdvisor.com will be the online ticket sales agent for Bravo San Diego. SeaWorld San Diego celebrated the second anniversary of its Garden of Discovery attraction on Oct. 21. On Nov. 1, Fred Sainz, vice president of communications and community relations for the San Diego Convention Center Corp., took a new position with the Waitt Family Foundation. The philanthropic organization, with headquarters in La Jolla, was created by Gateway founder Ted Waitt.
The deadline for the next tourism & hospitality column is Nov. 9. Rodrigues can be reached at (858) 277-6359, Ext. 107, or via E-mail at trodrigues@sdbj.com.