Profile---Local venture capitalist Robert Kibble on the hunt for his next big success
Monday, November 6, 2000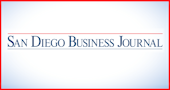 Robert Kibble likes what he does so much, an 80-hour work week isn't unusual.
The managing partner and founder of Mission Ventures, a San Diego venture capital fund with more than $200 million under investment, says he usually arrives at his office by 7 a.m., and tries to get home by about 7:30 p.m. Then there are the hours he puts in answering E-mails and conducting research after dinner and on the weekends.
"I try to take at least one day off a week," says Kibble, a British native whose accent is still clearly discernable after nearly three decades living in the States.
But work hardly describes what Kibble, 57, does with most of his waking hours.
"We work that hard because we enjoy it; this is fun. This is incredibly stimulating work, where you're trying to solve problems for companies, and solve them in the best possible way."
Launched in 1997, Mission Ventures, with offices near the Interstate 5-805 merge near Del Mar, provides money primarily to high-tech start-up companies in exchange for part ownership in the firms.
"We supply the fuel to help entrepreneurs with bright ideas to help them turn those ideas into reality."
Success And Failure
It's a high-risk business, but the payoffs can be rewarding.
One of Mission Ventures' earliest investments was a little firm in Westlake Village called Sandpiper Networks. When the company was purchased by Digital Island, a Nasdaq-traded high-tech based in San Francisco, Mission Venture investors received about $55 million in stock distributions.
Not a bad return for the fund's original $3 million equity stake.
Leo Spiegel, president of Digital Island and the former president of Sandpiper Networks, called Kibble a superstar.
"He's a great adviser and willing to get his hands dirty, which is unusual in the venture capital world," says Spiegel, who was recruited by Kibble to run Sandpiper.
"He's very direct, honest, approachable, thoughtful, and consistent all the things you want in your fiduciary and venture capitalist," Spiegel says.
Not everything Kibble and Mission Ventures touches turns to gold, however.
Mission sunk some $3 million into a San Diego Internet firm called Enonymous.com that turned out to be a loser. The fund continued putting money into the company after its initial round, but at one point, the VC's managers decided it had to pull the plug, and "put it to sleep," Kibble says about the company that stopped operations in May.
Still, Mission Ventures' investments have produced a lot more winners than losers, he says.
The type of return investors expect from a VC fund like Mission runs about 20 percent annually. Mission Ventures' compounded annual return since its inception is 190 percent, he says.
It's not hard to believe given the incredible run-up in high-tech stocks in recent years, but the battering those same stocks took this year may mean the party is over.
Leveling Off
Kibble isn't that worried. He agrees the investment playing field was altered dramatically this year because of the retrenched stock market, adding the changes are for the better.
"The new environment has caused companies and venture capital funds to get back to the basics and become a lot more realistic."
For the most part, Mission Ventures avoided getting burned because it conducts extensive research on the companies it invests in, he says, avoiding funding the "fly-by-night dot-coms."
Kibble landed in San Diego some four years ago when a group of local CEOs decided the area could use another VC fund. Doug Wall, senior vice president and founder of Alitum, a San Diego-based outsourcing firm, recalls Kibble had been winding down his involvement in a San Francisco-based VC fund called Paragon Ventures.
After Kibble proposed becoming the fund's first investor, Wall did the mandatory reference checks, which resulted in sterling recommendations and his being named managing partner.
"Robert is not your typical venture capitalist," Wall says. "He's got this very dry, English sense of humor. He's very personable, likes people and has a good interaction with entrepreneurs."
From England To America
Kibble grew up in Epson, Surrey, the younger of two sons, to a middle-class family headed by a father employed as a bank manager.
Because his grandparents put away some money, both he and his brother were sent off to a private day school. Young Kibble did well enough to be accepted to one of England's premier institutions, Oxford University, where he obtained a degree in chemistry.
After college, Kibble took a job with Shell Chemicals as a research chemist and technical sales engineer. He soon realized getting ahead as a chemist would require a much longer time investment than he wanted to make.
He enrolled in graduate business school at the University of Virginia, happy to leave behind what he considered the stifling atmosphere of England.
His homeland in the late 1960s and early '70s was suffering from relatively inflexible political and economic policies that plunged the nation into an economic depression, Kibble says.
Kibble got a preview of his future home while making a living as a tour guide, ushering visitors, nearly all of whom were Americans, on day trips to such places as Stonehenge or Bath.
The job gave him an insight into how large and diverse this country is, and that folks from Montana were quite different than denizens of, say, New York City.
His first job out of business school was at brokerage house Shearson Hammill & Co. in corporate finance. Within a few years, the company merged with a larger investment house, Hayden Stone, which resulted in large-scale housecleaning by the acquiring firm.
"One day a manager comes into the room and says to a group of us, 'The good news is that we're not firing you, but the bad news is we're cutting your salary, and as far as your bonuses go, forget about it.'"
Kibble decided to look for greener pastures and found what he was seeking at Citicorp. Hired by the merchant banking group, Kibble was assigned first to Kuala Lumpur in Malaysia and later to Sao Paulo, Brazil.
"I wanted to see the world and I got to be a sailor the MBA way."
Outfoxing Coyotes
Called a "serious sportsman" by his longtime friend and fellow Oxford chum John Ward, Kibble played a bit of rugby. But after relocating to the States, he took up an even more British outdoors pastime: the fox hunt.
About 12 times a year, Kibble and his fellow sportsmen don their "riding pinks" (bright red jackets), white jodhpurs and black riding boots and take to the hills, riding their steeds as they follow the hounds to chase down coyotes.
The hunters never capture or kill the wild animals, only catch up to them and get a glimpse of their faces as they escape into the brush, says Kibble.
"The thrill I get comes from the companionship and interaction with the horse, watching the hounds work and taking in the gorgeous countryside."
Though he retains his British identity, Kibble prefers his adopted homeland and became a U.S. citizen in 1979. He returns to England yearly to see his father and friends, and while many things have improved, it's still no comparison to where he is today.
"You won't find a greater degree of professionalism in the way companies are organized and managed than in Southern California."