People On The Move
Monday, November 6, 2000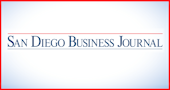 Banking and Finance
Leslie Rodes Monteath has been named a financial advisor for Morgan Stanley Dean Witter.
Construction and Design
Rick Bilbro has joined Bilbro Construction Co. as project engineer. Fieldstone Communities, Inc. has appointed Robert K. Nunes as Southern California sales director. Roel Construction has promoted Doug Briggs to group manager. The San Diego Chapter of the American Society of Interior Designers has named Stephanie Mathews president of its board of directors. Sharon Burns has joined Architects Delawie Wilkes Rodrigues Barker as head of its interior design studio.
Government and Nonprofit
Roderick L. Reinhart, CFRE, has been appointed vice president at The Alford Group. Home of Guiding Hands has named Chuck Hansen, vice president of community relations for Viejas Enterprises, volunteer of the year. Ann Sinclair Bethel, Ph.D., has been named director of education and library services at Mingei International Museum. The San Diego Padres has named former major league infielder, Craig Shipley, to its scouting staff.
Health Care and Biotech
Irma Cota, CEO of North County Health Services, was named president of the board of directors of the California Primary Care Association. ZyGam, Inc. has added Dr. Tony Hunter to its Scientific Advisory Board. Resolution Health Strategies has named Earl Steinberg, M.D., as senior vice president of industry affairs and research and development.
High-Tech and Manufacturing
Bill Mazur has joined Pragmatic Instruments as manager of sales and marketing. Aegis Broadband, Inc. has appointed Lewis Cunningham as managing director and William Kopenhaver vice president of operations. Littlefeet, Inc. has appointed Jim Edson as vice president of international sales and worldwide operations. TriTech Software Systems has appointed Robert McGrath as vice president sales and marketing. John Henry has been named vice president of marketing at Trade Service Corp. Dr. Bob Edelbrock has joined @campus as vice president and general manager. Tweeter Home Entertainment Group has appointed Bob Staples and Joe LoPiccolo to vice president of sales. Mahesh Bhave has joined Hughes Network Systems as vice president of business development. Science Applications International Corp. has named William A. Roper as chairman of the board of the SAIC Venture Capital Corp., and Thomas E. Darcy as executive vice president and chief financial officer. American Society of Engineering Management has selected SAIC chairman Dr. J. Robert Beyster as the "Engineering Manager of the Year." The Institute of Electrical and Electronics Engineers has awarded its Third Millennium Medal to Dr. Daniel Alspach, chairman and CEO of Orincon Industries.
Insurance
Culver "Cub" Parker has been appointed Barney & Barney's director of business development. The James Group has hired John M. Henderson as marketing representative.
Law
Brobeck, Phleger & Harrison, LLP has named Peter McGraw as office administrator. Attorney Mary Waltari has joined Kennerson Schwartz Semerdjian & Haile, LLP. Stephen Clifford has joined Heller Ehrman as trademark attorney. Jim McMullen, Russell Brown and Margi Bell have been named partner at Gordon & Rees, LLP.
Media and Marketing
Tricia Plummer and Jesse Lovejoy have been hired at Nuffer, Smith, Tucker, Inc. as account coordinators. Concepts Worldwide has hired Elaine Kady as national account executive and Michael Schultz as director of operations. Matthews/mark has named Camille Sobrian as its vice president of marketing. ThinkTank Advertising, Broadcast, Design has added Elizabeth Doozan as lead copywriter. Kutch & Co. has named Sarah Doaust as assistant account executive. Tracy Henslin has joined The Grove Agency as graphic artist. Malinda Marshall has joined the McRae Agency as account coordinator. Kendra Weinisch has joined Heying and Associates as an intern.
Miscellaneous
Bob Brann has joined Petco as senior vice president of merchandising. Edson Gould has joined Jet Source as operations manager. C. Spa Salon has appointed Gina D'Amico as stylist and promoted Ken Moshier to salon educator. Heritage Golf Group has named Angela Newsome as vice president, controller. Stacy Elledge, a director at Bruno, Mack & Barclay, was awarded the CIRA Gold Medal for scoring first in the nation on the Certified Insolvency and Restructuring Advisor examination. Mail Boxes Etc. has promoted Peter Holt to executive vice president of franchise sales and development.
Real Estate
Steve Larsen has joined IPC Commercial/TCN as a sales associate. The Walters Management Co. has promoted Gloria Avveduto to regional manager and Cheri Lucas to accounting manager. Peggy O'Connell has been named vice president of sales and marketing at the Douglas Wilson Cos. Lindsey Guyer has joined the Willis Allen Co. as sales associate.