Law---San Diegans are among state's most influential attorneys
Monday, November 6, 2000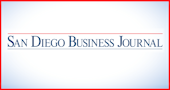 Five San Diegans were named among the Top 100 Most Influential Lawyers in California by the California Law Business.
The weekly publication is produced by Los Angeles-based Daily Journal Corp., which publishes 19 newspapers, magazines and legal services.
The list is considered a "Who's Who" of the most powerful lawyers representing a broad range of interests, from entertainment to Silicon Valley to the Governor's office.
Those who made the list from San Diego include: Alan Bersin, superintendent of the San Diego Unified School District; Judge Earl Gilliam of the U.S. District Court; William Lerach, a San Diego-based litigator with Milberg Weiss; Terry O'Malley, chair of the high-tech law firm Gray Cary Ware & Freidenrich; and Mark Robinson, president of the Consumer Trial Lawyers and a partner at Robinson, Calcagnie & Robinson.
- - -
Election Season: The race is crowded for the five open seats on the San Diego Bar Association's 2001 board of directors. Seventeen candidates have filed petitions to run for the four at-large open seats and one South Bay seat. The board includes 16 members, 12 at-large, plus one representative from the South Bay, North County and East County, as well as the president, who serves a fourth year on the board.
Candidates for the SDCBA's board of directors are: Andrew S. Albert, Kenneth W. Brooks, Meridith L. Brown, Kate Bush, Lesa Christensen, Cindy D. Davis, Victoria Eriqat, Craig D. Fuller, Alan L. Geraci, Martin W. Hagan, Sam R. Judd, John L. Morrell, Catherine A. Richardson, Thomas J. Warwick Jr., and Darin L. Wessel. Teresa M. Burris and Alvin M. Gomez are running for the South Bay seat.
In Session: The San Diego Public Library will host an educational seminar detailing wills and trusts from 6-7 p.m. Nov. 7, in the third floor auditorium of the Central Library Downtown. San Diego attorney Mark L. Miller will conduct the seminar. Topics to be covered include the general principles of estate planning and how to set up a trust. For more information, call (619) 236-5894.
- - -
Historic Training: California Western School of Law recently hosted a program to train the first public defenders in Chile's history.
Chile's public defenders were on the campus on Oct. 24 and 25 to shadow San Diego public defenders through the course of their workday.
They also put their new skills to test by engaging in mock trials in the school's Gafford Moot Court.
Send legal news items to Denise Ward at dward@sdbj.com.