Enterprise---Neighborhood National plays unique role in the community
Monday, November 6, 2000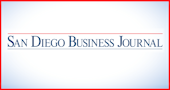 Neighborhood National Bank's vein of profitability doesn't lead far outside San Diego city limits, in contrast to many other local banks.
Robert McGill, president and CEO of the two-branch bank, said it's finding ample profit opportunities right in its own back yard.
The organizational mission of the bank, its parent Neighborhood Bancorp, and sibling Neighborhood Opportunities Corp. consists of four parts: create employment through job creation and assistance to entrepreneurs; job training and technical assistance programs; assist in the economic development of low-and moderate-income communities; and increase its profitability, he said.
The bank, which has approximately $40 million in assets, opened on National Avenue in 1997. It bought not only the former Wells Fargo branch building, but also its customer accounts because, McGill said, that was the way to bring the new bank to profitability more quickly than starting from scratch. The bigger bank's branch also had the customers with the right geographic and demographic profile.
It also operates a branch on Paradise Valley Road, which opened two years ago. Its administrative headquarters are at 303 A St.
In the third quarter of 2000, it turned its first profit, netting approximately $300,000, McGill said.
In contrast to many other local banks, which set up Small Business Administration loan production offices in distant cities as a way to boost revenues much like the Bank of Commerce model, this bank concentrates its efforts on San Diego County, he said. The bank provides all of the services associated with a full-service retail bank, he said.
Boosted By Other Banks
The bank's shareholders, many of which are larger banks required by law to reinvest in the communities in which they operate, prompt this emphasis.
Banks such as California Bank & Trust, Borrego Springs Bank, California Federal Bank of Los Angeles, City National Bank of Los Angeles, Washington Mutual and Wells Fargo all have invested in the bank. So have U.S. Bank, San Diego National Bank, Northern Trust Bank of California and First National Bank of San Diego, he said.
McGill was a finance officer for the National City-based McMillin Cos. several years ago when he said he developed the idea for the bank. The former Union Bank of California and Southern California First National Bank executive was studying the construction company's proposed entrance into the affordable housing market when real estate prices took a dive in the early 1990s.
He realized there was a need for a bank to serve lower-income areas with home loan programs and take advantage of community reinvestment requirements governing other banks.
"Our goal is to go into markets that traditionally are not served by banks and serve them," McGill said.
Customer Service
In addition to making SBA loans and other business loans, Neighborhood National Bank also makes car loans and has passbook savings accounts for its customers.
A big part of the organization's effort is financial education for its low-income customers who are just establishing their first bank accounts. Another focus is on loans to small local businesses with strong financial statements but not a lot of liquidity, he said.
A total of 36 employees work for the holding company, bank and nonprofit community development corporation, which makes grants and runs the financial education programs for the bank.
"We know there was a need for our customer base to understand the financial system, such things as household budgeting and ATM use," McGill said. "That's why we established financial literacy programs."
The bank also set up an individual development account program that provides matching grants for low-income depositors.
In a new partnership with Catholic Charities, Diocese of San Diego, that was announced this past summer, the bank and Neighborhood Opportunities Corp., its sister nonprofit corporation, agreed to provide financial education and administer investment funds for refugees under the new refugee individual development account program.
The goal of that federally funded grant program is to enable refugees to accumulate sufficient savings to make one of four types of investments, McGill said. Those investments can either enable them to pursue self-sufficiency, buy a vehicle, pursue higher education, start a business or buy their own home.
Unique Program
Under the program, persons with refugee status who are being served by Catholic Charities may invest money in a 401(k) style account. For every dollar invested, they can receive up to $3 in matching funds from the federal government.
Before opening an account, each refugee must complete a federally mandated financial literacy program called DollarWise, McGill said. The 10-hour program teaches such basics as automated teller machine use, the difference between savings and checking accounts, how to build good credit, and how to qualify for a home or automobile loan.
"We're also looking at welfare-to-work programs offered by the county as a way to get people employed," McGill said.
The bank has a variety of depositors, ranging from those with accounts in the millions to first-time savers who start out with zero-balance accounts, he added.
It also offers credit cards.
"There really isn't a traditional bank product that we don't offer," McGill said. "It all goes back to our goal of serving our identified client base in the area and not to grow to a certain size and be acquired by a big out-of-town-lender."
The bank doesn't make many large commercial real estate loans, McGill said. That's because industry statistics show that homeowners who borrow to buy are less likely to default on their loans than real estate investors, he said.
McGill foresees a liquidity crisis hitting many big banks that loan heavily to developers coming some time in the near future. That's why the bank's portfolio of many smaller real estate loans will help it stay liquid when that time comes, he said.
"We're a very old-fashioned bank," McGill said. "We serve working people who hold down jobs."
The bank's newest program, according to Betsy Monograin, senior vice president, is a fund to provide financing for mom-and-pop businesses.
"We're even seeing other banks referring customers to us for loans," she said. "There's a generational passing of ownership going on right now with many small businesses, which will be aided by this loan program."
The help will make it possible for some heirs to keep a business and provide cash to heirs who want to go in a different investment direction, she said.
The bank's officials anticipate making loans from $250,000 to $1 million in connection with the marketing plan.
"The bank is growing rapidly and we feel we're on the right track," Mongrain said. "We don't want to take on too many new things just yet."
John Rebelo, former chairman of Peninsula Bank of San Diego and now San Diego market chairman for U.S. Bank, invested Peninsula Bank's funds in Neighborhood National Bank at its inception.
"They basically targeted a market that other banks were not interested in serving," Rebelo said. "In order to succeed in that market you need to have more than just a branch in the neighborhood , you really need to make that market area your main emphasis."
He said Neighborhood National Bank's ownership by Peninsula Bank, its acquirer U.S. Bank, and other big banks was crucial in its financial success after three years in business. The big banks that were shareholders in Neighborhood National Bank were able to provide deposits to help liquidity.
"Everyone must understand you can make money in areas that don't have high income levels," Rebelo said. "I think we all needed to know how to put the credit programs together, but there is real good, profitable business to be found in areas where there isn't a high household income level."