Energy---SDG & E; warns consumers to expect high winter natural gas prices
Monday, November 6, 2000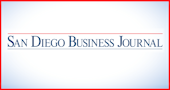 As if the high cost of electricity wasn't enough, expect to pay more for natural gas, too.
San Diego Gas & Electric Co. is warning its customers that they can expect to see higher bills for natural gas this winter and is launching an information campaign to raise awareness of the national issue.
"Natural gas prices, like other energy costs, have increased significantly over the past year nationwide," said Pam Fair, vice president of customer services for SDG & E.; "We are very concerned that San Diegans, who have just faced a summer of high electricity prices, are now going to experience increased costs for natural gas, too."
SDG & E; is projecting the average monthly natural gas bill this winter for a typical residential customer could increase almost 50 percent, from $39 to $56. This is based on the national increase in wholesale natural gas prices, which have doubled this year, she said.
Fair cited several reasons for the rise in natural gas prices this winter. Among them is California's energy crisis during the summer, she said.
Usually, natural gas is stored up over the summer when gas demand is traditionally low. But the increased demand for electricity this year , manufactured by plants fired by natural gas , has meant lower-than-expected gas storage levels nationwide, Fair said.
Add to that the increasing demand among electric generators, who are increasingly using more natural gas to power their plants. Also, supplies are temporarily tight due to slow growth in new production in the late 1990s, she said.
Also, the country has experienced a strong economy for the past several years, sparking a significant rise in energy demand, Fair said.
But there's another reason the price of natural gas is expected to rise locally. The California Public Utilities Commission has blasted Houston-based El Paso Energy, which owns El Paso Natural Gas, one of the key pipeline routes for bringing natural gas to the state.
El Paso gave its affiliates preferential treatment in hoarding the amount of space on the pipeline, artificially driving up the price for other buyers at the Southern California border, said Harvey Morris, public utilities council for the CPUC.
The CPUC has already appealed to the Federal Energy Regulatory Commission, Morris said.
Michael Shames, executive director of the Utility Consumers Action Network, said the allegations show the natural gas market is susceptible to market manipulation. In case of unexpectedly cold weather, San Diegans could pay the price, he said.
Shames gives SDG & E; credit for warning its customers in advance about the rising cost of natural gas.
"They don't want anyone to be caught unawares this winter. They don't want a repeat of the summer," he said.
SDG & E; has already launched an ad campaign to educate its customers about the higher prices expected this winter. The campaign is expected to intensify as winter approaches, and will outline some emergency steps customers can take to avoid hardship, Fair said.
Despite high summer usage, SDG & E; expects to have an ample supply of natural gas this winter, Fair said.
Shames is also fairly confident, based on reports the area will have a milder winter than usual.
"I'm strangely optimistic that the natural gas prices won't be quite as high as people are fearing. I was more pessimistic on the electricity side; I'm not so pessimistic on the natural gas side," he said.