CyberBucks---Advanced Marketing Services moves to the Big Board
Monday, November 6, 2000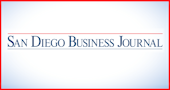 It's not really a high-tech company, but Advanced Marketing Services Inc.'s financial performance in recent years merits high marks.
This week, the San Diego distributor of books mainly to chain warehouses like Costco and Sam's Club makes a move from the Nasdaq to the world's largest and most efficient trading floor, the New York Stock Exchange.
The San Diego company that went public in 1987 decided to move to the Big Board to increase the liquidity and reduce the trading volatility of its stock while improving its visibility, said Chuck Williams, AMS' director of investor relations.
"When you look at the quality of the companies that are on the New York Stock Exchange, we definitely fit among them," Williams said.
A look at AMS' most recent quarterly results proves Williams' point. For its second quarter ended Sept. 30, both sales and profits rose 22 percent from the previous year's second to $177 million, and $3.7 million respectively. For the first half, the company earned $6.7 million on revenues of $325.3 million.
As far as profits, this was AMS' 14th consecutive quarter it reported higher net income than the previous quarter. In fact, over the past five years, compounded earnings per share have grown at a 28 percent clip, Williams said.
For this fiscal year, its earnings per share are projected between $1.47 to $1.52, up from the previous fiscal year's $1.28.
As for its stock price, the increase hasn't been as dramatic. Over the past year, it's traded between $11.12 and $23.50, reaching the high in late June. As of Oct. 30, it was trading about $17, giving it a market cap of more than $225 million.
To qualify for NYSE, companies must show profits for its three most recent years and have a market value of at least $100 million, said Tom Rathjen, who heads up the NYSE office in Palo Alto.
Along with profits, AMS has grown in staff. It now counts a total of 700 full-time employees, including about 250 in its headquarters office, and more than 200 in its four overseas operations in Australia, Canada, Mexico and the United Kingdom.
AMS' move to NYSE means San Diego now has 13 companies on the exchange. The others are American Residential Investment Trust Inc., Burnham Pacific Properties, Callaway Golf, Dot Hill Systems Corp., Gateway, Jack in the Box, Jenny Craig, Realty Income Corp., ResMed Inc., Sempra Energy, Sunrise Medical Inc. and Titan Corp.
As part of the fanfare in the move, AMS chairman Charlie Tillinghast and CEO Michael Nicita will ring the bell at the opening day of trading in New York on Nov. 9. The new symbol for AMS is MKT.
- - -
SkyDesk Appoints President: SkyDesk, a San Diego-based provider of online storage and management services, appointed Daniel Ferranti as its new president.
Ferranti, who has more than 25 years of executive experience in the information technology industry, is the former CEO and president of Majesco Software, a $165 million software firm based in Santa Clara.
Ferranti takes over the position held by interim president Peter Shaw since August while the company's board sought a permanent CEO. Shaw will remain a member of SkyDesk's board of directors.
Four-year-old SkyDesk's first CEO was Gary Sutton.
Ferranti headed up Majesco for nearly three years. Before that he was vice president of the communications group for Perot Systems in Plano, Texas.
The private company has revamped its strategy, aiming its storage services to corporate customers, rather than individuals.
Deep Thinking: Omm Inc., a San Diego-based maker of optical switching subsystems, plans to sell some 9 million shares of stock in the $10 to $12 range, according to an S-1 filing with the Securities and Exchange Commission last month.
That would generate at least $90 million for the 3-year-old firm that has thus far showed no profits and little revenues.
In its latest filing, unaudited nine-month results show the company losing some $31.2 million, compared with a net loss of $4.6 million in the previous year's nine months.
Still, the company's technology and prospects are such that it has attracted the likes of heavy hitters like Credit Suisse First Boston, Chase H & Q; and CIBC World Markets among its underwriters on the IPO.
Omm's customers include such telecom luminaries as Nortel Networks, Cisco Systems, and Siemens AG. The Mira Mesa-based firm has 248 employees.
- - -
Digital Wizards Get DoD Contract: The Department of Defense recently awarded Digital Wizards, Inc., a San Diego-based computer engineering firm, a five-year, $24.1 million contract to support several DoD entities including the Space and Naval Warfare Systems Center.
The 21-year-old firm has done a wide range of information services work for the Navy. It has about 100 employees, and annual revenues of more than $12 million.
SourcingLink.net Reports Losses: SourcingLink.net, a San Diego-based software firm that provides applications to help retailers and suppliers connect on the Internet, reported a net loss for its second quarter of $447,000, less than half the $913,000 loss it reported in the like period last year.
Revenues for the period were $857,000 compared to $288,000 in the previous year's second.
For the six months, it had a net loss of $1.4 million compared to a net loss of $1.6 million in the previous year's first half. Revenues more than doubled to $1.6 million from $557,000 in the previous year's first half.
The Nasdaq-traded company appointed its chairman and founder Marcel van Heesewijk as interim CEO following the sudden death of CEO and President Sean Maloy, 42, of a heart attack last month.
- - -
CollegeClub.com Reports Loss: Student Advantage Inc., the Boston-based firm that completed the acquisition of locally-based CollegeClub.com last week, reported a nine-month net loss of $16.2 million, compared to a net loss of $14.2 million for the previous year's nine months.
Revenues for the firm over the same time were $35.3 million compared to $18.3 million for the previous year's nine months.
At its height, CollegeClub.com had about 250 employees and claimed more than 3 million registered online members.
Unable to attract additional capital financing, the company filed for bankruptcy protection in August. Its sale to Student Advantage was approved by federal Bankruptcy Court last month.
The purchase price was $7.5 million in cash, 1.3 million shares of Student Advantage stock, and assumption of certain liabilities.
Nasdaq-traded Student Advantage (STAD) said it expects to maintain the CollegeClub Web site and run it as a separate division which should add about $8 million in annual revenues next year.
Holcomb Networks Gets Funding: Privately held Holcomb Networks, a San Diego-based optical fiber and communications infrastructure company, said it closed a first round of financing of $8.35 million late last month.
Among the lead investors were Kuwait Investment Projects Co., MC Capital Inc., a subsidiary of Mitsubishi Corp., and the investment banking firm of Gerard, Klauer and Mattison.
Holcomb said it expects to use the funds to further the company's proprietary communications infrastructure solutions.
Among Holcomb's current clients are the Pentagon, Pitney Bowes, Fujitsu and Siemens.
Send finance-related items on the local high-tech industry to Allen at mallen@sdbj.com.