Care Bags Offer Relief To Concerned Parents
Monday, November 6, 2000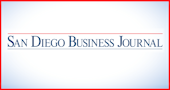 You can easily call Karen Campbell an overprotective mom. As a new mother, she was wary about leaving her child in someone else's hands.
She wondered what would happen if her daughter was choking or drowning. Would someone else know her child's medical needs and allergies? In case of an emergency, would emergency officials be able to contact her right away?
To answer all those questions, Campbell equipped her child with a so-called "goodie bag" of information. The bag contained insurance information, phone numbers of family and doctors, life-saving pamphlets and pictures.
That was one child and four years ago. Today, Campbell, owner of Protect Me Mommy Inc., of Carlsbad, produces day bags for children, senior citizens and athletes that are designed to hold life-saving medical information specific to each person.
"Protect Me Mommy's products are really a surrogate mom that follows your children wherever they go," Campbell said. "The bags save lives by providing instructions on how to perform emergency medical procedures and answer all the questions that come up during an emergency; who to contact, allergic reactions, height and weight."
Cost for the bags range from $17.95 for the athletic pack to $29.95 for a day bag.
Protect Me Mommy recently launched a new Web site with the help of Carlsbad-based Zland.com. For more information, go to (www.protectmemommy.com).