Biotech---Sales and investment projections make biotech look bullish
Monday, November 6, 2000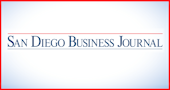 A local Ernst & Young LLP health sciences partner is upbeat about the future of biotechnology in San Diego , and he isn't the only one.
For 2001, Doug Obenshain predicts a 40 percent rise in total sales from $892 million last year. He also foresees more mergers and acquisitions by the cash-flushed public firms and a higher profile for the smaller firms.
"Biotechnology will become this century's most dynamic industry," said Obenshain in the most recent Ernst & Young biotechnology industry report.
"In calendar year 2000, the industry is certain to raise in excess of $30 billion , more than three times the 'best-ever' record of just under $9 billion," the report said.
The report, titled "Convergence: Ernst & Young's Biotechnology Industry Report, Millennium Edition," was released at the ninth annual CALBIOsummit at the San Diego Convention Center on Oct. 31.
The three-day biotech meeting drew 1,300 attendees from throughout the world.
James McCamant, editor of the Berkeley-based Medical Technology Stock Letter, and Lisa Walters-Hoffert, managing director of Roth Capital Partners in San Diego, are equally bullish about biotech's future in San Diego.
"The outlook is positive," McCamant said.
"We're becoming known as the genomics' hub , a lot of companies are playing in that space," Walters-Hoffert said.
San Diego is home to 120 biotechnology firms; between 25 and 30 are public.
Obenshain is optimistic last year's revenues of $892 million may climb to $1.2 billion this year.
He said biotech sales will be driven by one of San Diego's premier companies, Idec Pharmaceuticals Corp., which markets a highly successful cancer drug.
Sales also will be boosted by a rising demand of biotech services and products, such as the rapid screening of compounds and research kits, he said.
For 2000, Obenshain also expects drug approvals by the Food and Drug Administration in San Diego.
Both Obenshain and McCamant are confident Maxim Pharmaceuticals' lead drug, Maxamine, will be approved next year.
IPOs were also plentiful in San Diego within the two-year period from July 1998 to July 2000.
During that period, eight biotech firms raised $900 million in IPO funds. They were Sequenom, Inc., Diversa Corp., Illumina, Inc., Arena Pharmaceuticals, Inc., Discovery Partners Intl., Inc., Applied Molecular Evolution, Collateral Therapeutics, Inc. and Invitrogen Corp.
In 2001, fewer firms will go public in San Diego, but still a fair amount.
Obenshain speculates there will be between three and six IPOs next year, assuming there's a reasonably receptive market.
McCamant is less optimistic.
"Most of the good companies have gone public this year," he said.
Next year, there will be an increase in acquisitions driven by local companies flushed with money. In 1999, San Diego's biotech firms managed to raise $2.5 billion, he said.
"Many of these firms don't run high burn rates, have products and product revenues and are near turning to profitability," he said.
Both Obenshain and Walters-Hoffert believe especially those local biotech firms working in the area of genomics and proteomics , the study of genes and proteins , will see an uprising.
Among them are Senomyx, Inc., Elitra Pharmaceuticals, Inc., Ancile Pharmaceuticals, Inc., Maxia Pharmaceuticals Inc., MitoKor and Acadia Pharmaceuticals, Inc.
"These are companies that are coming into their own," Obenshain said. "They have now been around for years, filled out their management team with experienced people, have solid funding and have attracted investors' interest."
Last month, three private firms, GeneFormatics, Inc., Ontogen and Neurome raised more than $40 million in funding, said Walters-Hoffert, describing it as a phenomenal achievement.
"But it's not just the health care investors investing," she said. Crossover buyers are propelling the biotech industry to new heights.
Crossover buyers are high-tech investors flushed with Internet stock returns eager to invest in the next technological challenge , biotechnology, she said.
Among them are also high-profile computer technology firms, such as IBM and Motorola, buying into biotech's technologies.
Obenshain agreed.
"The biotechnology industry is becoming an information science industry," he said, adding the convergence of high-tech and health care will lead to a flood of new technologies.
McCamant, however, cautions that not all biotech firms with platform technologies will be successful next year. "A lot of companies (biotechs that sell products and services) that went public this year are fully valued," he said.
He declined to give names.