Banking---Comerica Bank of Detroit buys L.A.-based Imperial Bancorp
Monday, November 6, 2000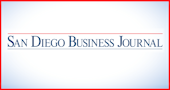 Following in the footsteps of other Midwestern banks seeking a bigger presence into the Southern California market, Comerica Bank of Detroit has announced plans to acquire Los Angeles-based Imperial Bancorp.
Imperial Bancorp is the parent company of Imperial Bank, which operates two offices in San Diego.
The $1.16 billion stock swap transaction between the two publicly traded banks announced Nov. 1 will create the fourth biggest bank in California and the 19th largest in the United States with $48 billion in assets, said Eugene Miller, chairman, president and CEO of Comerica Bank.
The acquisition of a California bank by an out-of-state lender is not an isolated incident, according to one banking industry official.
A bank industry analyst sees the acquisition as part of a continuing effort by Comerica Bank to acquire other banks that loan to mid-size businesses.
"You see this happening throughout the state , it's not particular to Southern California," said Susan Banachek, a spokeswoman for the California Bankers Association. "It's the marketplace that's driving these acquisitions because we have a very strong economy in California."
The cost of acquiring an existing bank with established customer relationships is usually more economical than starting a brand new bank, she added.
California's 12 Imperial Bank offices will take on the Comerica name and there's likely to be consolidation, said Imperial Bank Vice Chairman and CEO Norman Creighton.
"There are two Imperial offices across the street from one another in Orange County," Creighton said. "They will be consolidated."
Consequently, banks seeking entry into the California marketplace frequently do it through acquisition of a local bank, Banachek said.
Ed Carpenter, chairman and CEO of Irvine-based Carpenter & Associates, a bank consulting company, sees the acquisition as just the latest in a series by Comerica Bank.
"Imperial Bank does a lot of lending to mid-size businesses," Carpenter said. "It also moves Comerica Bank into two industry segments , technology and entertainment , it's an excellent fit."
He said five years ago Comerica Bank acquired Metro Bank of Los Angeles, which was also a lender to mid-size businesses.
Comerica Bank has also acquired banks in other areas of the country that specialize in loans to mid-size businesses, he added.
In recent months, San Diego-based Scripps Bank was acquired by U.S. Bancorp of Minneapolis, which earlier bought Peninsula Bank of San Diego and Bank of Commerce, also of San Diego.
Under the terms of the agreement, Imperial Bank's shareholders would receive 0.46 shares of Comerica common stock for each share of Imperial common stock they own, Miller said.
Since the announcement Comerica's stock has slipped a bit, Creighton said. The exchange, however, remains fixed.
"They will get 46 shares of Comerica for every 100 shares of Imperial," he said. "They're paying us a premium."
Creighton added the combined assets make for a $13 billion bank.
"We'll be the fourth-largest bank in California," he said. "It's a big footprint."
Managing editor Rick Bell contributed to this story.