Taxpayers Association Honors Port Exec
Monday, May 29, 2000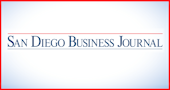 Dennis Bouey, the Port of San Diego's executive director, has received a "Profiles in Courage" Award from the San Diego County Taxpayers Association.
The group, which made the announcement during its Golden Watchdog and Golden Fleece awards ceremony May 18, noted the award is for public officials "who demonstrate political courage." The association praised Bouey for proposing a twin-track airport plan, which calls for improving Lindbergh Field while seeking a new site for San Diego's international airport.
The taxpayers group gave the awards for the first time this month. Receiving a similar award was Oceanside city Treasurer Rosemary Jones, credited by the group for preventing the city from putting $100 million in city funds into a fraudulent investment.
The rating on the bonds issued to build the San Diego Convention Center expansion were upgraded by Fitch IBCA from AA minus to AA last week.
The rating is just one level from the city's general obligation bond rating of AA plus, the highest rating a city can receive. The criteria for increasing a bond upgrade includes the city's fiscal management practices and financial flexibility, city officials said.
Besides increasing the value of the bonds to investors, the upgrade reflects the city's overall credit quality and reputation in the municipal bond market, the city said.
The $205 million in bonds for the $216 million expansion were issued in 1998 at a record low interest rate of 5 percent. Debt service on the bonds comes from a combination of hotel taxes and annual payments from the San Diego Unified Port District.
Seniors' Web Site Retooled
Seniorresource.com, a 4-year-old Web site developed by BKA, LLC of Del Mar and Financial Freedom Senior Funding Corp. of Irvine, will now become a new venture, Seniorresource.com, LLC.
Information on seniors' housing options,