Office Pavilion Improvements Completed
Monday, May 22, 2000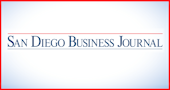 Johnson & Jennings General Contracting has finished tenant improvement construction of the new office and warehouse space for Office Pavilion, a retailer of office furniture at 6920 Carroll Road in the Sorrento Mesa area.
Carl Haines, project manager for the construction company, said the new facility was designed by the McCulley Group of Solana Beach.
Office Pavilion relocated its operation from a facility at 9220 Trade Place, he said. Locally based Bergelectric, Weather Engineering and Hope Engineering provided design-build engineering services, he said.