Law ---Pro Bono Legal Program Comes to Cal Western
Monday, May 15, 2000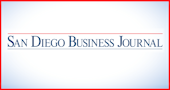 Lyon & Lyon Announces
Changes in Local Office
The Innocence Project, housed at institutions like Northwestern University School of Law in suburban Chicago and the Benjamin N. Cardozo School of Law in New York, has come to California and settled in the south, at San Diego's California Western School of Law.
The California Innocence Project provides pro bono legal help to inmates who are challenging their convictions based on a showing of innocence through DNA or other new evidence. The school's Institute for Criminal Defense Advocacy, directed by attorney Justin Brooks, will oversee the California Innocence Project. With the start of the fall trimester, law students will assist in the appellate representation of inmates, in cases where there is strong evidence of innocence. Other schools that host innocence projects are the University of Wisconsin Law School in Madison, the University of Washington School of Law in Seattle and Nova Southeastern University Law Center in Fort Lauderdale, Fla.
- - -
Letterhead Changes: Lyon & Lyon LLP, based in Los Angeles, has announced several changes in its La Jolla-area office. Its new managing partner is Jeffrey M. Olson. Troy M. Schmelzer has become a partner in the firm, which also has six new associates: Kelly K. Andres, Susan B. Meyer, William E. Hunter, Pattric J. Rawlins, James S. Nolan and David E. Heisey Irvine-based Carlton, DiSante & Freudenberger LLP has announced Dave Carothers has joined the firm as a partner in its La Jolla-area office. He was formerly a partner at Chapin, Fleming, McNitt, Shea & Carter. The firm represents companies in all aspects of labor and employment law and related civil litigation.
Bankruptcy Basics: Attorney Mark L. Miller of San Diego will present a seminar on bankruptcy from 6:30 to 7:30 p.m. Wednesday, May 17, in the third floor auditorium of San Diego's Central Library at 820 E St., Downtown. Topics will include what "going bankrupt" really means, and when, if at all, one should apply for bankruptcy. He will also discuss the effects of recent changes in bankruptcy laws and will answer questions. For information, call (619) 236-5894.
- - -
Eye Toward E-Business: Baker & McKenzie, the international law firm based in Chicago with a branch Downtown, is among more than a dozen corporate sponsors for a new E-commerce Web site: ebusinessforum.com. Touted as "the first free Web portal designed expressly for senior executives striving to reinvent their companies as successful global E-businesses," the site is a project of the Economist Intelligence Unit, which determines its editorial content. The Economist Intelligence Unit is the business-to-business division of The Economist Group , which publishes the magazine of the same name.
Graves' law column appears weekly. Send items to bgraves@sdbj.com.