Editor's Notebook---Flash Kicks in With a Modest Proposal
Monday, May 1, 2000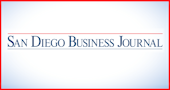 Stadium proposals seem to be all the rage these days.
Three major league baseball teams opened new stadiums this season in Detroit, Houston and San Francisco. Seattle blew up the cavernous Kingdome a few weeks back and in two years will open a new stadium for the NFL's Seahawks on the heels of last year's opening of the Mariners' Safeco Field.
But new sports palaces don't come without controversy. PacBell Park in the China Basin area of San Francisco finally was built when politicians and Giants owners realized they could not gain the necessary support from voters to publicly finance a new stadium. A complex private financing plan ultimately was created and the ballpark opened in early April to near-unanimous support.
Locally, of course, Chargers owner Alex Spanos has publicly stated he wants a new stadium for his football team, contending he cannot compete financially with other NFL clubs. That, as the ongoing saga of the Padres' ballpark Downtown continues unfolding. The Padres are still walking a political tightrope, having been the target of numerous lawsuits and heaps of public criticism over the financing plan.
So who'd be crazy enough to float a new stadium proposal at this time? The San Diego Flash, that's who.
But before you cry out "no more seat guarantees," listen to the local A League soccer team's ideas for a minute. It makes a lot of sense.
According to Flash chief operating officer Chris Payne, they have worked with Chula Vista city officials and county Supervisor Greg Cox's office to identify two locations in Chula Vista. They hope to have a site locked down by mid-summer, he added.
The Flash needs 100 acres to fully execute the plan, which would be based on a 10,000-seat stadium and 18 surrounding tournament fields. Those fields, of course, would be used for recreational, club and youth games and tournaments, as well as to host college matches and competitions, Payne said.
"We believe we can get 48 weeks of athletic events into the facility," he said, adding the possibility of opening a soccer academy at the complex, much like club teams run in Europe.
Keeping that kind of facility functioning at peak level 48 weeks out of the year isn't some field of dreams, either. Local youth club teams are constantly choking on the smog of such exotic locations as San Bernardino, Lancaster or Bakersfield as they travel throughout Southern California for tournaments.
It's a lucrative deal to host these events, too. The annual Surf Cup, probably the region's most prestigious and recognizable youth tournament, tallies an estimated $700,000. Dozens of teams, along with coaches, parents and family members need lodging, plus food and travel expenses, and then there are the hefty tournament fees. Being in San Diego, many families plan it as a vacation. Over the course of a couple weeks, it adds up quickly.
Perhaps it's merely coincidence, but here's another attractive aspect of the Flash's plan. The Women's United Soccer Association has identified San Diego as one of its eight initial expansion sites. Though the league has yet to get official clearance from the U.S. Soccer Federation , Major League Soccer also is bidding for official recognition of a women's league , the WUSA already has the financial clout and high-profile recognition to be a major professional sports league.
They have financial commitments from major media players like the Discovery Channel and Cox Communications, and their frontman is former women's national team coach Tony DiCicco, who led the U.S. team to the World Cup championship last summer. On top of that, players like Mia Hamm, Brandi Chastain and Shannon McMillan have agreed to play in the WUSA, lending the league some impressive initial star power.
In fact, all 20 members of the 1999 women's World Cup team signed an agreement recently, saying they will only play for the WUSA. The soccer federation is supposed to rule on which entity will be recognized late this summer.
And what does the WUSA want from its expansion cities?
"They need a 10,000-seat, soccer-specific stadium," Payne said. "We've talked to Tony DiCicco; a stadium is one of the keys for them, and we're deep into the planning stages for just such a stadium."
Dan Novak, vice president of programming and communications at Cox Communications in San Diego, said they are beginning to involve themselves with the search for a new venue for a WUSA franchise.
"There's no slam-dunk on it yet," said Novak, who said he recently met members of the women's national team and came away deeply impressed. "We're going to find out who's doing what and start meeting with those groups. I think the Flash is among them."
Payne is unsure what type of financial commitment the WUSA would make to the Flash, but obviously the more they contribute, the more they get out of it.
"We wouldn't look at it as competition," Payne said of a team playing during the same season as the Flash's spring-summer schedule. "We'd have a women's pro team, a men's pro team, an academy and all these fields. We think it would be a perfect fit."
All for a price tag of about $30 million, Payne said, quickly adding the financing would all be done privately.
"There would be no bond issuance, nothing like that," he said. "We're building a smaller stadium so we can get the size right; it would be all single-deck, with the ability to expand in the future. It doesn't pay to build a stadium if you can't fill it. It's going to be 30 to 40 years before soccer in this country is drawing 70,000 fans a game."
A few months back, the Flash named Steve Peacock as chairman of the board. Though not well-known in development circles in San Diego, the San Jacinto-based Peacock likely will be a major developer in Riverside County.
Payne said Peacock has tied up much of the land around the recently opened Domenigoni Reservoir near Hemet , prime development territory. Peacock, whose Peacock Financial is traded on the Nasdaq bulletin board, also has included professional soccer franchises in Los Angeles, San Francisco and Las Vegas in his investment holdings.
"He's helping with the predevelopment process and talking with stadium groups," Payne said. "He brings a lot of experience to the table."
If all goes according to plan, the Flash , perhaps even a WUSA franchise , will be kicking off in a new stadium before the Padres toss out the first pitch at their new yard. Payne predicts groundbreaking should occur in April 2001 and wants the tournament fields functioning as construction of the stadium continues.
"We want to open in April 2002," he said. "We'll phase in the other fields and open them sooner. We want to get them into use."
The Rochester Raging Rhinos, who also play in the A League, recently announced the state of New York has committed $15 million to their financial package to build a soccer-specific stadium. The estimated price tag there is $47 million for a field about the same size as the Flash's plan.
"We can't run our team the way Rochester is being run," Payne said of the defending A League and U.S. Open Cup champions, who also are being courted by the MLS for expansion in 2002. "$47 million for a 10,000-seat stadium is expensive. San Diego is still in stadium shock. We have to run our operation lean and mean."
Building a facility with the community's interest in mind, seeking minimal governmental financing beyond the land itself, and at less than 1/10th the cost of the Padres ballpark. Sounds like a pretty good deal to me.