Qualcomm Stock Shows
Monday, March 6, 2000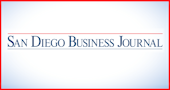 Wireless: Latest Venture Gives Greater Weight to CDMA Technology
A recent string of accords is expected to push Qualcomm Inc.'s widely used and publicized wireless digital phone technology further into the market.
Last week, the celebrated San Diego telecommunications company announced a strategic alliance with software giant Microsoft Corp. to jointly develop advanced wireless, multimedia-capable devices.
The companies will focus on the development of hardware reference designs for mobile devices such as smart phones and wireless pocket personal computers.
The smart phones would be based on the Microsoft Mobile Explorer wireless communications platform, while the personal pocket computers would use Qualcomm CDMA Technologies' (QCT) chipset and system software.
QCT, a division of Qualcomm, is the leading developer and supplier of code division multiple access chipsets, hardware and software solutions and tools.
CDMA technology, the fastest-growing wireless digital standard in the world, is considered the foundation for future third-generation technology that will allow more sophisticated mobile services.
"The (Microsoft) alliance will help meet the increasing need for wireless Internet devices by driving development of new wireless services and features," Qualcomm spokeswoman Christine Trimble said.
By working together, the two companies can gain a stronger foothold in the market, she said.
"The wireless mobile device market is expanding far beyond the traditional mobile handset. This development agreement allows both companies to expand their reach."
The Qualcomm deal fits with Microsoft's plan to be a force in the communications market, said Perry Lee, product manager for Microsoft's mobile devices division in Redmond, Wash.
Microsoft last year invested $600 million in Nextel Communications Inc., and formed a joint venture company with Swedish mobile phone maker Ericsson.
Also last year, Microsoft rolled out MSN Mobile to push stock quotes, sports reports and other information to pagers and digital phones.
"Our mantra is information access anytime, anywhere from any device," Lee said. "These mobile devices are new ways to enable data access.
"It's really important to move with the trend of the marketplace and meet the trend of our users."
While there have been early adopters of sophisticated devices like smart phones, companies like Qualcomm and Microsoft must continue to educate consumers on the devices' benefits, said Jeff Dahlberg, technology analyst for the Gilder Technology Group, a Massachusetts-based high-tech consulting firm.
"I think once people recognize the validity of the concept (of smart phones), then it's going to be very successful," Dahlberg said. "We've been talking about smart phones for a long time. It's great to see them come online.
"We think there's going to be a huge market."
That vast market potential will continue to do wonders for Qualcomm's stock, some financial analysts say.
Prudential Securities recently upgraded its rating on Qualcomm to "strong buy" from "accumulate," mostly due to the rapid expansion and potential of CDMA.
Qualcomm's stock closed at $134 late last week, with a 52-week range of $8 to $200.
Last week's announcement is not Qualcomm's first dealing with Microsoft. In 1998, the companies formed a San Diego-based joint venture called Wireless Knowledge, which provides platforms and services to corporate customers and application providers to enable mobile applications for the Internet.
Last week, Qualcomm also announced expanded partnerships with London-based Symbian, a leading technology provider for manufacturers of wireless information devices, and with New Jersey-based telecommunications equipment maker Lucent Technologies Inc.