Internet --- Start-Up Web Site Connects Artists to Patrons
Monday, June 26, 2000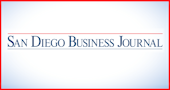 Art is in the eye of the beholder. At least that's the thought of one Carlsbad couple and the artists their venture represents.
Following up on an idea by his artist wife, Dr. Darlene Katz, Dr. Robert Jacobs designed a Web site to market the artwork of San Diego artisans. Disillusioned by local galleries and the time constraints required to show work at co-op galleries and weekend art shows, their solution , ArtbyCity.com , uses the Internet as a business tool to connect artists with patrons.
Several featured artists said they were dissatisfied with the 6-month-old Web site, though. Only 20 artists currently subscribe to the service and some plan not to renew when their initial six-month membership ends.
In addition to linking art sellers with buyers, Jacobs and Katz believe the site helps market the local artist community as a whole, leaving them more time to work.
"The marketing aspect of art is something that a lot of artists don't enjoy doing or are not good at doing and because of that they have all this beautiful artwork lying around their studios," he said.
- Retirees, Part-Timers
Can Show On Internet
The site also works to connect interested art buyers with the artists, some of whom are retired or part-time, they said.
ArtbyCity.com is not a sale or auction site. It is a means by which the Internet's 24-hours-a-day, seven-days-a-week availability is used to show samples of local artwork by artists grouped by media, Jacobs said. Users can view an individual's artwork, biography and contact information should they be interested in visiting the artist's studio or purchasing work they saw.
The site charges $90 for five images, the bio and contact information for the initial six months. Should the site remain unchanged, the fee drops to $50 for the next six months. Each additional image over five is $5.
"We wanted to make it inexpensive so everyone could afford it," Jacobs said.
Artists determine their prices. Jacobs and Katz have nothing to do with sales , not even in commission. ArtbyCity.com doesn't have a buying option, rather it suggests viewers visit the artists.
"My theory, which is arguable, is that people don't buy art on the Internet without looking at it in person or feel comfortable about (buying) it," Jacob said.
- Artists Have Mixed
Reactions To Site
Therese Bushen, a Cardiff-based multi-media artist, says most of the inquiries for her work came from out of state. She plans to teach drawing and won't renew her subscription, but "might come back" to it. She noted that she did sell quite a few of her greeting cards and prints through the site.
Suzanne Ravise, a retired French teacher from Los Angeles, featured 10 of her photographs on the site, but won't renew.
"It doesn't seem to have the public impact I thought it would," she said.
In the months her information and samples had been up she sold only one picture.
"One picture in six-months isn't very much."
Fellow photographer Jim Respess said he was asked to join by Jacobs and Katz, but won't renew either. Respess already has a Web site and believes the price is too high to stay on ArtbyCity.com.
Carlsbad artist Annelis Schiebel said she couldn't think of any paintings she's sold since being on the site only because, "I think we were some of the first (artists featured)."
- Taking A Chance
On Getting Exposure
Schiebel said her sister advised her not to put her samples on the site because it was a Web site and not a gallery or a place Schiebel's work could be viewed properly.
However, she said, "I'm not disappointed at all because I wasn't expecting anything."
She just renewed.
Prices range from $15,000 for the impressionist oil paintings of Sebastian Capella to $85 for the Brazilian Snakewood Colt .45-caliber revolver handle by Sean Tubbs.
Not every artist featured is professional. Dr. Len Ozerkis, a Del Mar physician, has 10 images of his ceramic pieces on the site, but doesn't sell them. In his bio, he said he would eventually like to create ceramic pieces full-time. Currently his work is on display in his office and home.