Law--McKenna & Cuneo Expands Its San Diego Presence
Monday, June 19, 2000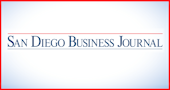 Higgs, Fletcher & Mack Beefs Up Tax and
Business Practice
Downtown law firm Harrigan Ruff has merged, sending five attorneys to a large, multistate firm and a sixth attorney to another Downtown entity.
McKenna & Cuneo, LLP, a Washington, D.C.-based law firm with more than 250 employees, merged June 1 with Harrigan Ruff.
The five Harrigan Ruff attorneys who are now partners in McKenna & Cuneo are James G. Harrigan, F. Gregory Pyke, Susan A. Mercure, Steven K. Ewald, and Marco F. Garavaglia. The merger brings the number of attorneys in McKenna & Cuneo's Downtown office to 21.
Robert Brewer, managing partner of McKenna & Cuneo's local office, said the Harrigan Ruff attorneys, with their particular expertise in business and real estate transaction matters, "will allow McKenna & Cuneo to provide a broader range of services" in the region.
McKenna & Cuneo opened its San Diego office in 1991 and has built a litigation practice focusing on business and commercial law, white-collar crime, environmental law, government contracts, insurance coverage, international law and appellate work. The firm also has offices in Los Angeles, San Francisco, Denver, Dallas, and Brussels, Belgium. Harrigan Ruff was founded in 1969 and is known locally for its work in general business and real estate transactions and health care law.
A sixth attorney at Harrigan Ruff left for Downtown-based Miller, Monson, Peshel, Polacek & Hoshaw. William D. Hoshaw was previously employed by that firm, which changed its name June 1 to reflect his return.
- - -
Shaw & O'Brien Absorbed: Richard Shaw, Bruce O'Brien and James Gergurich, the three attorneys at Downtown's Shaw & O'Brien LLP, have joined Downtown-based Higgs, Fletcher & Mack LLP. Shaw and O'Brien will be partners, while Gergurich will be an associate.
With the addition, Higgs, Fletcher & Mack is announcing an expanded tax and business practice.
"Sophisticated tax representation will continue to be in high demand by the San Diego business community, and there is no one better than Dick Shaw and his team in that arena," said John Morrell, Higgs, Fletcher & Mack's managing partner.
The move continues the expansion of Higgs, Fletcher & Mack, which one year ago acquired Downtown's McInnis, Fitzgerald, Rees & Sharkey. With the 1999 acquisition it hired 22 attorneys from that firm.
Identifying emerging client needs, then acquiring firms specializing in those needs, is part of the Higgss, Fletcher & Mack growth strategy, according to Morrell.
Ethics Award: Thomas Jefferson School of Law professor Susan Tiefenbrun has received the Sanford D. Levy Award from the New York State Bar Association Committee on Professional Ethics. The award recognizes her work editing the Journal of the Institute for the Study of Legal Ethics. The volume she edited contained papers delivered at a three-day legal ethics conference that took place in 1998 at New York's Hofstra University.