Nonprofits --- Corporate Functions Plugged Into Downtown Restaurants
Monday, July 24, 2000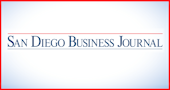 Every month a northern California company calls Katherine Faulconer to make dinning arrangements for their monthly sales team meeting in San Diego.
"They'll tell us, 'We have 40 people coming from our office in Milwaukee, they tend to like American food and we'd like to spend $75 per person on that group. What do you recommend?'," said Faulconer, president and owner of Restaurant Events, Inc., a free event planning service focused solely on the Gaslamp Quarter.
Since 1996, Restaurant Events has connected corporate groups with Gaslamp restaurants and bars for high-end dining, restaurant buyouts and block parties. Faulconer and her five associates will fax or E-mail several menus of restaurants in the $75 range with brief descriptions and photographs to the client.
After the firm agrees on the venue, Restaurant Events contacts the restaurant or bar.
"Once the company does their series of functions that month, we will direct the bill back to them so they only pay one bill," Faulconer said.
- Hundreds Of Events
Planned Annually
In the high season for special event planning in the Gaslamp , January, February and March , Faulconer and her five event planners booked 243 events this year, Faulconer said.
The majority of the events she schedules are on weekdays, which are typically slow restaurant days when owners will lower their prices.
"The fact that she specializes in the Gaslamp makes it easier for all parties involved," said Steve Zipfel, owner of Dick's Last Resort Restaurant. He said Faulconer books about 50 events a year at his Fourth Avenue restaurant and bar. "Not only for the restaurants, because we're just dealing with Katherine and her people, but also for her clients on the other end. She takes care of all the small details."
Faulconer claims to know all there is about Gaslamp restaurants. Her company keeps a running database containing every dish, drink, and price on the menus of 50 restaurants. The Restaurant Events staff knows each restaurant employee through close contact with the owners, she said.
The ability to completely plan all aspects of an event, even the minute details, is the key to her company, Faulconer said.
"My meeting planners need to plan a flawless event for us to be successful," she said.
- Experience An
Asset In Venture
Faulconer has a good idea of what Gaslamp restaurant owners want. She started in San Diego as promotions director of the former Doubletree Hotel at Horton Plaza in 1992 and then as Planet Hollywood's director of sales and special events. Currently, Faulconer serves as president of the Gaslamp Quarter Association , the district's business advocacy group.
In April, Faulconer opened her firm's second office in Denver's LoDo (Lower Downtown) District.
David Cohn, co-owner of the Gaslamp restaurants Dakota Grill, Blue Point and Tupelo, said he contracts with Faulconer because of the clientele she brings in. He also said he's asked Faulconer to include his Hillcrest and Balboa Park restaurants in her recommendations.
"I think she brings us groups that are looking more for the dining experience, whereas most of the (destination management companies) bring you groups that are more looking for meeting space too, and not every group is looking for that," Cohn said.