INTRANET --- Online Systems Provide Communications Link
Monday, July 17, 2000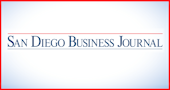 The boss is coming back from an extended assignment out of town. The plan is a noontime Friday barbecue in the parking lot. All employees invited.
This situation isn't a problem for a company with 40 employees. But if you were the communications officer at Cox Communications , a firm with more than 2,000 employees in a dozen offices throughout the county , expensing your cable bill would be easier.
Instead of running to the nearest photocopier with Scotch tape in hand, Roya Jackson, communications specialist for the local cable carrier, logged on to the firm's Intranet and electronic billboard, and publicized the get-together welcoming the general manager back to San Diego.
"We barely had any food left," Jackson said after the party was over.
The human resource departments at large San Diego firms such as Cox and Qualcomm Inc. , with more than 5,000 employees and 30 buildings in a five-mile radius , use systems like these for inter- and intra-office communications.
Executives of both companies say the online, internal communication systems are vital links in the chain of overall company productivity.
- Communication
A Key To Success
"It is critical to our success that we keep employees informed on day-to-day mergers and legislation in the telecommunications industry," said Dan Novak, Cox vice president of programming and corporate communication.
Qualcomm employees using Qualnet can file administrative paperwork, route it through the maze of managers, and then order new forms, said Diana Baldwin, manager of corporate public relations.
The firm also set up employee E-mail lists for workers to find others with similar work and nonwork-related interests, she said.
"That's how we would communicate about an event or project coming up," Baldwin said.
Both Cox and Qualcomm keep a running tally of their respective stock prices on their internal sites.
At Science Applications International Corp., an employee-owned company not publicly traded, the in-house system nicknamed ISSAIC, but pronounced Isaac, takes on more significance every time a new employee is added. About 4,500 SAIC employees work in San Diego County.
- Web Site Offers Staff
Wealth Of Information
Through an Isaac Web site called Employee Owners Network, new additions are educated on employee ownership, the different types of company stock, bonuses and retirement plans, said Ron Zellers, director of public affairs, San Diego.
"Say we do an acquisition," he said as an example. "There are 300 new employees brought on board. They've come from the public marketplace or, at least, another industry where (employee ownership) is a foreign concept to them."
The system is accessible in the main SAIC offices in San Diego and parts of the state of Washington and some satellite offices.