When Choosing a Broker, Do Your Homework
Monday, January 3, 2000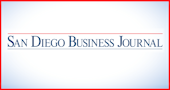 Chamberlin On Money: George Chamberlin
Dear George: I want to use a financial planner to help me in the new year. How do I find a good one?
, Ellen, Carlsbad
Dear Ellen: Just like finding a doctor, lawyer or any other professional, when shopping for someone to help you with your investments it requires some time and effort.
Referrals from your friends and neighbors might be a good place to start. However, be careful. You may be looking for someone to help you build a good stock portfolio and your uncle works with an advisor to find income investments. That may not be a good relationship for you.
If, indeed, you are serious about finding the right advisor to help you manage your investments, prepare to do a lot of legwork. I would suggest you begin by contacting a few of the major Wall Street brokerage firms that are in your neighborhood. Start with the office manager and explain what you are looking for. Hopefully, he will refer you to a qualified representative in the office and not just the "duty" broker.
The next step is to ask for a half-hour consultation with the recommended advisor. If you feel that a good relationship is possible, it is appropriate to ask for referrals. Attorney Mark Brewer, who handles investor arbitration matters, suggests you use the "rule of five" , ask for five referrals who have been clients for five years or more. This would suggest the broker has some years of experience and has been able to retain his clients.
Next, check out the complaints that have been brought against the broker. The National Association of Investors offers a wonderful online service for investigation lawsuits or other disputes that affect individual advisors. The best way to access the information is through the Web site www.nasdr.com. You can also get information by calling (800) 289-9999. The online service is free but there is a small charge to have the material mailed to you.
A couple of professional organizations can also provide you with local referrals. The International Council of Financial Planners (www.icfp.org) will provide you with a list of local members who will provide a free consultation. You can call the group at (800) 282-PLAN. In addition, the National Association of Personal Financial Advisors (www.nafpa.org) can offer several local contacts and offers no-obligation consultations, too.
While these organizations have high standards and require regular continued education for their members, there is no guarantee that these advisors are any more ethical or honest than a brokerage.
Dear George: What is the difference between an international and a global mutual fund?
, Jack, Poway
Dear Jack: It may seem rather petty, but there is a difference between these two types of mutual funds.
An international mutual fund allows the portfolio manager to invest in stocks from any country in the world with the exception of the United States. On the other hand, a global mutual fund can invest anywhere around the world including the United States.
If you already have your domestic bases covered with a group of good old American stocks or mutual funds, then it is appropriate to spread out around the world with an international fund. However, if you are just getting started a global fund would provide the diversification that is necessary.
Chamberlin is the host of "Money in the Morning," heard weekdays from 9 a.m. to noon on Ksdo.com A/M 1130. Send your letters to him to P.O. Box 1969, Carlsbad, CA 92018, or E-mail him at (george@,moneyinthemorning.com).