Retail---Conflicting surveys paint differing predictions for holiday shopping
Monday, December 4, 2000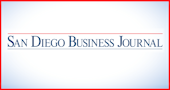 Conflicting economic surveys show this year's holiday shopping season may be merry or dreary.
In the week following Thanksgiving, one retail survey indicated consumer spending was up over last year, while another predicted consumer spending would be flat.
Houston-based TeleCheck Services, Inc, a check acceptance company, predicted 'tis the season to splurge.
TeleCheck's Retail Index is compiled on a calendar basis and is based on the total sales volume of check-writing consumers at a broad cross-section of retailers. The company is a subsidiary of Atlanta-based First Data Corp.
According to figures from its 2000 Retail Index the holiday shopping season started off with a ho-ho-ho for many retailers.
Retail sales in the western United States climbed 4.6 percent, with San Diego's sales up 3.9 percent.
With the sales season off to a jolly start, TeleCheck predicted this year will be a prosperous one for retailers.
But the Opinion Research Corp., International, headquartered in New Jersey, begs to differ. Its recent survey, commissioned by the Consumer Federation of America and the Credit Union National Association, showed consumers may be opening their wallets a little less often, to the disappointment of local businesses.
'Tis the season to be frugal, as nearly a quarter of the consumers in the country plan to spend less this holiday season than last year. The survey of about 1,000 consumers showed that concern over individuals' existing debt load was one reason consumers were reluctant about holiday spending this year.
Thirty-five percent surveyed who plan to finance some of their holiday spending with a credit card were concerned about being able to pay off the resulting balance.
After spending on "Christmas cheer," 48 percent were worried about suffering from a "New Year's debt hangover," what they see as not being able to meet the monthly payments on their consumer debts, which include credit cards, auto and installment loans, but exclude mortgages.
Data from the Federal Reserve indicates consumer debt continues to rise, with the ratio of debt payments to income approaching its highest level ever.
Not surprisingly, when asked what they would do if Santa brought them a $5,000 windfall, 40 percent of consumers said they would pay off debt and only 15 percent said they would save it.