Real Estate---Developers offer up new-home projects
Monday, December 4, 2000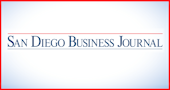 South Bay, already one of the fastest-growing regions in the county, is poised to become the most active development area soon, real estate analysts said.
"South Bay will be the biggest growth area of San Diego County in the next decade," said Russ Valone, president of MarketPoint Realty Advisors of San Diego. "If you look at the land that is currently in the entitlement process at the county, about 38 percent of it is in the South Bay."
The reason the area has become so popular in recent years is the abundance of flat, vacant industrial land, said Marney Cox, chief economist for the San Diego Association of Governments.
The availability of industrial land next to large master-planned residential neighborhoods makes it possible to have a live-work community where residents can avoid long commutes on congested freeways, he said.
Several residential developers have been active since the beginning of the 1990s in the area east of Chula Vista, Valone said. Now, development of new housing is shifting south to Otay Mesa.
Late last month, National City-based McMillin Homes announced plans to build the first two neighborhoods at Vista Pacifica, a 204-acre parcel of land on Otay Mesa that was formerly known as Robinhood Ridge. Sandy Perlatti, senior vice president of marketing for McMillin, said the Suncrest and Somerset neighborhoods would have a total of 242 new homes. The first of them will go on the market in the spring of next year.
Residential developers are still active in the area just to the north of Otay Mesa. Carlsbad-based Shea Homes San Diego plans to release 19 homes in two neighborhoods for sale at Otay Ranch in the east Chula Vista area Dec. 9, said Cindy Roush, sales director.
But while residential development is still relatively new to Otay Mesa, industrial developers have been active there since the 1980s.
R. Michael Murphy, president of Murphy Development Co. of San Diego, said the availability of economical land in Otay Mesa makes it possible to offer relatively low rents to industrial tenants.
"If a tenant occupies a distribution building in Kearny Mesa or Miramar, he'll pay 75 cents a square foot per month," Murphy said. "In Otay Mesa, he would be paying 50 cents a square foot."
His company currently owns Siempre Viva Industrial Park, 119 acres on Siempre Viva Road in Otay Mesa that are master-planned for 2 million square feet of buildings.
Murphy Development has already built three buildings totaling 190,000 square feet and is currently building an additional 231,000 square feet, he said.
The company has already completed two other industrial parks on Otay Mesa. They're the 80-acre San Diego Business Park on Sanyo Avenue with 1.3 million square feet of industrial buildings completed in 1988 and the 155-acre Brown Field Business Park, master planned for 2 million square feet and completed in 1991, he said.
"Otay Mesa has some advantages over other parts of the county," Murphy said Nov. 28. "Otay Ranch, Eastlake and other South County developments offer the broadest array of family oriented housing at prices below other markets."
The commute times between new residential developments near Chula Vista and the Otay Mesa industrial parks are relatively short, because they go against the traffic flowing north to the San Diego area, he said.
"We call that the reverse commute," Murphy said. "The company that can offer potential employees great housing opportunities and a shorter commute will be able to attract key talent far easier than their competitors."