FINANCE---Firms Ink Financial Transaction Deals With Banks
Monday, August 28, 2000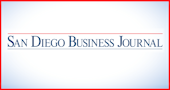 Scripps Financial Reports Higher Earnings for First Six Months
Three local companies said they've signed up more banks to use their technology to speed financial transactions.
Financial Data Solutions Inc., whose major owner is Southwest Community Bank of Encinitas, said earlier this month Los Angeles-based First Regional Bank of California has signed up for its electronic image Internet item and remittance processing service.
Financial Data Solutions is already processing more than 3 million items a month for other clients such as Orange County Teachers Federal Credit Union from its facility in Murrieta, said Fred Mirzaian, president and CEO of Financial Data Solutions Inc.
San Diego-based Mitek Systems Inc., a developer of automated document recognition technology said First Federal Savings Bank of Twin Falls, Idaho, has purchased CheckQuest, Mitek's check imaging system.
"We see installing CheckQuest as a strategic move that will help position the bank for a future in which access to information electronically is an important capability to have," said Richard Nine, vice president and information systems manager for the bank. "Using CheckQuest, which automatically balances the debits and credits of transactions and has reconciliation and exceptional processing capabilities, will enhance First Federal Savings' internal research efforts."
Meanwhile, HNC Financial Solutions, a division of San Diego-based HNC Software Inc., has signed up Security First Network Bank of Atlanta as a customer. The bank will use HNC's Capstone Express software to automate its online credit application decisions, said Pat Reily, vice president of marketing for the bank.
- - -
Earnings Rise: Scripps Financial Corp., parent of Scripps Bank of La Jolla, had higher earnings in the second quarter and the first six months of this year, compared to last year.
Its net income for the second quarter was $1.49 million, compared to $1.43 million for the second quarter 1999, said Ron Carlson, president of Scripps Financial Corp. The company's net income for the first six months was $3.33 million, a 12 percent increase over net income of $2.96 million for the same period in 1999, he said.
In June, the local lender announced it had agreed to be acquired by U.S. Bancorp of Minneapolis. The merger is still awaiting shareholder and regulatory approval. Carlson expected the transaction to close by the end of this year.
Dividend Declared: American Residential Investment Trust of Del Mar declared a 20 cent per share common stock dividend that was paid early this month, a company official said.
For the quarter ended June 30, the company's net income was $300,000 or 4 cents a share, compared to $2 million or 25 cents per share for the second quarter of 1999, said John M. Robbins, chairman and chief executive officer of the mortgage REIT.
Year-to-date, the company has earned $1.8 million or 22 cents per share, compared to $3.6 million or 45 cents per share, Robbins said.
"The company's decrease in net income is largely attributable to two factors. First, American Residential continues to experience spread compression as a direct result of interest rates increases of 175 basis points by the Federal Reserve Board since June 30, 1999," Robbins said.
"Second, the company's mortgage asset portfolio has continued to decline because we decided to avoid whole loan pool purchases while market conditions were unfavorable," Robbins said.
The company borrows money on its line of credit and buys house loans that bear interest at a higher rate, Robbins said.
Send financial news to Arthur S. Grupe at agrupe@sdbj.com.