When former athlete-turned-model-turned-finance-guy Joe Kudla couldn't figure out what to wear to his yoga class, he decided to switch gears and launch his own clothing line, Vuori, which he expects this year will bring in nearly $20 million.
"I beat up my body playing football and lacrosse, and a friend suggested I try yoga ten years ago for my back," said Kudla, who was born and raised in Encinitas. "I fell in love with it. But, it led me to ask, what does a guy wear to yoga?"
At the time, Kudla couldn't find a lot of yoga wear options except for big brands like Nike and Adidas and Under Armour.
"But their stuff didn't have the movement and range of motion needed for yoga. And, the true yoga brands out there were making stuff that looked almost like festival gear. The only brand that was doing it right was Lululemon, but it just didn't feel masculine enough. So, I saw an opportunity to do something cool that was inspired by my hometown and my active lifestyle."
In the spring of 2015, after seven years of observing the market and raising $300,000 from family and friends to fund the project, Kudla, who received an accounting degree from San Diego State University, launched Vuori.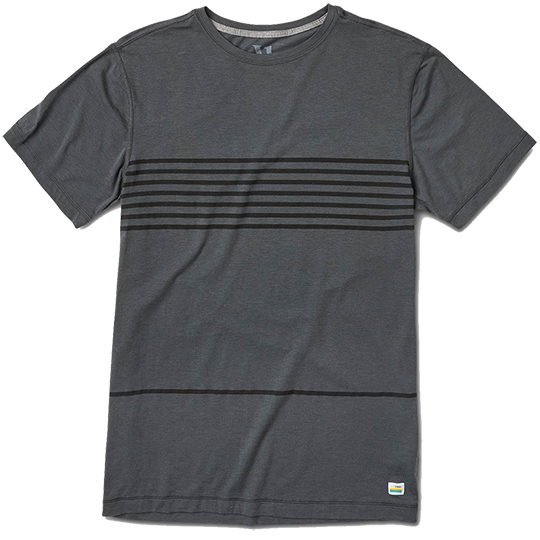 The Lines
Now, his active wear apparel line that offers men an array of items from shorts to tees that transition from the gym or studio to everyday life thanks to its fabrics and designs, is expected to nearly double its annual earnings this year from $10 million in 2017. Most recently, Kudla and his team of 20 launched a women's line, with items like sports bras, leggings, and hoodies.
As for the men's line, although it has evolved into a full collection that includes sweat pants, technical knit pants, hoodies and rain and wind protection outerwear, among other items, the shorts remain the top-seller, accounting for almost 60 percent of the brand's business to date.
"If you look at men's athletic shorts before Vuori, they were probably maybe gray or black or some muted color," said Kudla. "But, Vuori brought all this personality through prints and sophisticated colors and patterns. It just looked and felt different."
The Team
But Kudla says aside from the quality and designs of his products, which are manufactured in Colombia and China, among other foreign countries, the success of Vuori is due to his talented team and their long collective experience in their respective fields and in the world of apparel.
One integral player is head designer Rebecca Bray, who worked for companies like Rip Curl and Ashford Golf Club before joining Vuori in 2015. Cami Ashing, the director of product development and merchandising, came from the O'Neill Surf brand. And, Luis Alvarez, the director of sales, was previously with Asics and Nixon Watches. Kudla, too, brings to the table his previous business background. For a decade, he ran recruiting and consulting firm Vaco San Diego LLC, which provided staffing for the finance and accounting industries. He eventually sold it to launch Vuori.
"Hiring the right people early on, identifying those people and retaining them is so important for the growth of a company," he said. "We have great leaders in each functional area and we are truly set up for scaling."
Aside from being sold nationally at REI stores, Vuori is also sold at 20 Nordstrom department stores across the country as well as online, Paragon Sports, Fred Segal and Equinox fitness clubs. The active wear has also recently garnered a celebrity following, with actors like James Franco, Ben Affleck and Josh Duhamel as well as basketball player Steve Nash sporting pieces from the line.
Planning on Adding Two Stores
Vuori is set to open two more stores in California to add to its flagship Encinitas location, but Kudla declined to share details.
"We are close to signing the two leases," he said. In the fall, Vuori expects to add a men's five-pocket pant made of moisture-wicking fabric and performance button-downs to its line of active wear.
Kudla is excited about Vuori's future.
"We are beating all expectations," he said. "It was hard to imagine how good of a start we'd have, but, growth is pretty dynamic and we are definitely hitting our stride now."