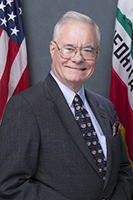 The recent approval of Senate Bill 1 and the $52 billion it will cost Californians through higher fuel taxes and registration fees is a big number tied to promises big enough to obscure the real effects these costs will have on us here at home.
To our region's farmers, ranchers and those who support the industries that are so vital to our economy and way of life, SB 1 means higher vehicle costs each year and a 20-cent increase per gallon for diesel at the pump. That's on top of the costs for programs such as California's Cap-and-Trade Program and the Low Carbon Fuel Standard (LCFS).
Add it all up, and come November, when the law goes into effect, if you use diesel to power your business or way of life, California's fuel polices alone will be adding almost 80 cents a gallon to your bill, and that's before local and federal taxes.
When you pump gasoline into your tanks, you will be paying 12 cents a gallon extra for those Sacramento promises, which brings the total of California-specific fuel policy costs to 67 cents a gallon. Going electric? Your registration fees will be going up, too.
In the area of eastern San Diego County that I represent, a large number of my constituents still depend heavily on their cars for getting around. In this rural area, there aren't too many other options. For many of those already struggling to make ends meet, adding additional costs onto fuel only makes it more difficult.
Evaluate Existing Programs
Let's start by looking at the effectiveness of the programs that unnecessarily add to our fuels costs. With the taxes and fees of SB 1 now a done deal, we should evaluate the need for programs such as LCFS that have little, if any, tangible benefits to the environment or economy.
The LCFS program is meant to reduce the carbon intensity of the state's fuel by 10 percent by 2020. The reduction in carbon intensity is supposed to be achieved by blending a certain percentage of low carbon fuels, such as ethanol and biofuels, into gasoline and diesel. Or, buying credits — that we pay for at the pump — that in theory would help drive the development of other alternative, low-carbon fuels.
The problem is that these alternative fuels are not readily available in the United States, and the cost of importing them from other countries is adding increased costs to an already expensive program.
Few Results to Show
We currently pay about 5 cents per gallon at the pump for LCFS, but the California Air Resources Board estimates those costs will rise to 12 cents for gas and 14 cents for diesel by 2020. That's a costly trend for a program with few results.
Ultimately, our state's legislative and executive branches have pursued a regulatory approach that excludes input from businesses and consumers. As a result, we've adopted policies that not only hurt average Californians, but also fall well short of their stated goals. Moving forward, our state should do a better job of quantifying not just the impacts of policy on the environment, but also the negative impacts on consumers.
Over the coming months, I look forward to exploring legislation that would do just that. In the meantime, I invite you to join me in being involved as we work to shape better fuel and energy programs for our community and state.
Randy Voepel of Santee is a state Assembly member representing parts of inland San Diego County and part of Riverside County.