Millennials, roughly ranging in age from 21 to 34, may seem relatively young and inexperienced in comparison to baby boomers. But, that doesn't mean the generation doesn't know what it likes, and that includes its preference in alcohol. While some millennials likely ushered in their legal drinking age with a craft beer in hand, recent data shows the consumer group is now beginning to lean toward distilled craft spirits as its drink of choice.
According to the American Craft Spirits Association 2018 annual report, the number of active craft distilleries in the U.S. climbed 15.5 percent from 1,589 to 1,835 in the United States in 2017. California leads in the number of distilleries in the country with 156 — up from 148 the year prior. In the U.S., craft spirits had an estimated market share of 3.2 percent in cases sold in 2017, up from 1.2 percent in 2012. In terms of revenue, the industry sold nearly 7.2 million cases in 2017 and reached $3.7 billion in sales.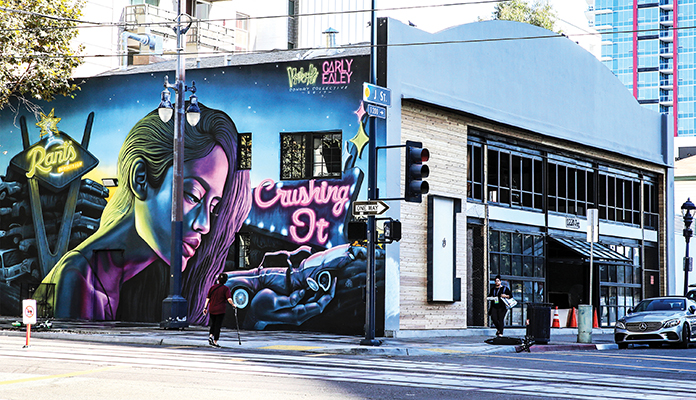 While millennials may be driving craft distilleries to mushroom in the region, what's fueling the growth is relatively new legislation that has loosened restrictions on distillers, including allowing them to sell products straight to consumers and an increase in the total volume distillers can produce a year. Experts believe changes in law are a direct result of lawmakers realizing that, much like the craft beer scene, the craft distillery sector can create substantial economic growth.
Changing Laws
The California Craft Distillers Act of 2015 was the first law to define craft distilleries operating in the state as only those producing up to 100,000 gallons of distilled spirits annually. Authored by Assemblyman Marc Levine, D-San Rafael, the law allows distilleries to sell up to three 750 ml bottles per customer per day on site; it allows license holders to open a bar or restaurant on site; and have tastings where cocktails and mixed drinks can be made. In September, a Senate bill expanded that capacity to 150,000 gallons per year.
Additionally, the Craft Beverage Modernization and Tax Reform Act of 2017, which became effective Jan. 1, 2018, lowered the federal excise tax on beer and distilled spirits.
Carl Winston, director of the School of Hospitality & Tourism Management at San Diego State University, says, much like with the craft beer explosion in San Diego, politicians saw the benefit in the tax revenue craft distilleries could bring.
The San Diego Distillers Guild website shows nearly 15 craft distilleries as members in the county.
"Politicians saw an opportunity to do more entrepreneurship in the state and San Diego was a good place to do that," Winston said. "They figured out what happened to craft beer in the city — we have become a craft beer city in the last decade — and that created a lot of economic activity for locals and visitors alike that is driving tax revenue."
The other side of this, says Winston, is that the No. 4 economic driver for the city is agriculture, so, if you grow stuff, you want to experiment with it to create new and interesting flavored craft spirits, he says. And, because millennials are more inclined to try more out-of-the-box offerings, this works well for San Diego's consumers.
Brick-and-Mortar Incentive
Nick Apostolopoulos, owner of 619 Spirits founded in 2012 and treasurer of the San Diego Distillers Guild, says as soon as he heard the craft license law was changing, he rushed to find a brick-and-mortar location to open up a distillery with a full kitchen. One of the stipulations of the new craft license is that if a distillery has a bona fide restaurant, it can host tastings and private events as well as serve any brand of beer, wine and spirits. After some setbacks, he officially opened the doors to his North Park location in July.
"Before, all you were allowed to do as far as interacting with the general public was just serve them six quarter ounce chasers of spirit straight, you couldn't mix the drink," said Apostolopoulos. "Now, you can have lunch, five cocktails and walk away with bottles of my stuff, because I have a full kitchen. You can also do private events and serve any beer, wine and spirit because we have a full kitchen. And, because we have a bar and restaurant and are open seven days a week, revenue is going up month-over-month. Yet, we are still very much a distillery." 
Millennial Momentum
Steve Kuftinec, co-founder of East Village's Storyhouse Spirits, a restaurant, bar, private event space and distillery that produces vodka, gin, bourbon and rye, and is expected to open as soon as December, says he believes that, like the craft beer, craft spirit is on a similar, if not more accelerated trajectory of growth. He also credits this to millennials, because they are drawn to authenticity, not marketing ploys.
According to a 2018 millennial drinking trends report by BreakThru Beverage Group, a wine, spirits and beer distributor headquartered in New York, 41 percent of millennials prefer craft spirits than beer, the latter coming in at 39 percent. According to analysts and experts, the reason for this preference is because millennials are more interested in exploring newer, smaller and "authentic" brands with quality ingredients and homegrown productions versus big-box brands; they are more inclined to try new, nontraditional flavor combinations; and the generation is more calorie-conscious, preferring the lighter count in spirits, particularly vodka, versus that of craft beer.
"Millennials are the next generation of drinkers, and they don't want to be marketed or sold to," Kuftinec said. "You don't need two bikini-clad models holding a bottle to convince you that's what you want to drink. They prefer real, authentic brands they can trust and believe in. This is a monumental shift in marketing and sales. You don't want to push brands on someone — you want to have your brand out there to be discovered."
Winston, of SDSU, agrees.
"I think it's this whole notion of this anti-branding type of thing," he said. "They don't want Bud-Light. They prefer something authentic."
While the craft distillery market is still a relatively small piece of the spirits pie, projections look promising for artisans, as data indicates craft distillers are expected to increase production by 37 percent over the next five years.
Another San Diego Craft
Tom Gibson, president and chief operating officer of Los-Angeles-based 21st Century Spirits, says San Diego is at and will continue to be at the forefront of the craft spirits movement.
"San Diego is one of the originators," he said, namedropping larger local craft distillers like Cutwater Spirits and Malahat Spirits specifically. "Consumers are asking for it at bars, because, it's about being an individual and adding to the trend conversation. And, of course, restaurants and bars like to pour it, too, because it helps them stand out among the rest."