General Dynamics NASSCO is embarking on a hiring binge. And, while the giant San Diego shipbuilder will be looking for talent right in its backyard, with 800 to 1,000 jobs needing to be filled this year, it may have to cast a wider net.
NASSCO has received orders to build eight ships — two commercial container vessels, and six U.S. Navy support ships, which will be built simultaneously, the company's head spokesman Dennis DuBard said.
That work will carry the company through the 2024 timeframe, according to DuBard.
The majority of those positions will be in the hourly trades workforce: steel, welders, pipefitters and shipfitters.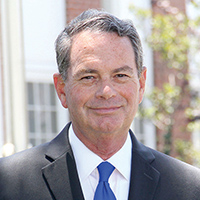 DuBard said the hiring will occur over the next several months, and the company is expecting to have the majority of positions filled by this fall.
San Diego benefits from the Navy's decision to "rebalance" its forces, moving more assets from the Atlantic to the Pacific, economist Lynn Reaser said earlier this year. The U.S. government made its decision because it sees growing threats from Pacific powers, including China and Russia, as well as challenges to international shipping lanes.
There has been a "steady rise" in Navy ships, with San Diego going from 49 ships in 2015 to 59 ships in 2017, said Reaser, chief economist for the Fermanian Business & Economic Institute at Point Loma Nazarene University. She is also an author of an annual military economic impact report from SDMAC, the San Diego Military Advisory Council.
The report estimates that one aircraft carrier brings economic impact of nearly $800 million with it, while the entire S.D.-based fleet brings direct spending of $2.1 billion, and an impact of $6.4 billion.
A future decision to increase the size of the Navy's fleet would also benefit San Diego's ecosystem. The Trump administration has proposed growing the Navy's size from the current 280 ships to 355 ships, though some say that goal could take decades to achieve.
Hiring San Diegans
The hope is to also fill many of the NASSCO positions with local workers.
"We'll just have to see how the numbers pan out, but obviously if we can't meet the numbers here, we'll have to go elsewhere," DuBard said. "But our goal is to be able to provide jobs here for San Diegans and folks in the region."
He said they don't think they'll have trouble filling those positions as the company will be recalling some of the workers that had been laid off back in 2017.
But, he added, those rehires won't meet the full numbers needed to fill all the positions.
Paid Training
NASSCO will also be taking workers with no experience, as well, DuBard explained, adding the company does have an eight-week training program at the shipyard to run new hires through before sending them out to work in the yard.
"They get paid while they're in the school; they get benefits while they're in the school," he said.
"Once they finish the program and necessary certifications, they start working. If we said we needed all-skilled workers, then that might have been a challenge. But the fact we'll take both is a good spot for us," he said.
"I think that's a key benefit of (NASSCO's) approach, that they're willing to train people and to allow that sort of activity to take place," said David Ely, an associate dean and professor at San Diego State University.
"You're building the skills of workers that they might not have been able to move into this industry and this type of job without this training," he said. "I think that's the biggest benefit (of) these positions."
Economic Impact
The number of workers being hired relative to the city's workforce is an incremental increase, Ely explained. "But when you look at the types of jobs that are being created there, they are significant."
The jobs, based on their pay, could also boost the economy, according to Ely.
"That'll create indirect benefits throughout the whole San Diegan economy as they buy, they create demand elsewhere," he said.
DuBard said the positions that are being hired for now are careers.
"There's opportunities for our employees to grow and train and have careers, as opposed to just a job. These are long-term commitments here," DuBard said.
GENERAL DYNAMICS NASSCO
PRESIDENT: Kevin Graney.
No. of local employees: 3,100
Headquarters: 2798 E. Harbor Drive
Company description: Ship design, construction and repair